Marketing
Available Online
The UIU Advantage
Are you the creative type who loves solving problems? UIU's Marketing degree is your pathway to an exciting, challenging and rewarding career. You will explore the human nature of consumer behaviors, conduct marketing research and understand how to build and sustain relationships that fuel success.
Why Marketing at UIU?
As a student in UIU's bachelor's degree in Marketing, you'll get hands-on experience with many of the research tools and methods that are commonly used in marketing research today. You'll also learn from faculty who bring real-world marketing experience into the classroom. Classes are kept small, at a 12:1 student-to-faculty ratio, to ensure you have plenty of opportunities for one-on-one time with your professors.
Explore Your Program
Marketing Courses
See course descriptions for the classes you need for your Marketing degree, as well as any general education requirements.
Academic Calendar
Keep up with your academic program's registration deadlines, session dates, holiday breaks and exam schedules.
Careers in Marketing
A degree prepares you for many careers, such as advertising director, agribusiness sales specialist, brand manager, international marketing director, marketing director/manager, marketing research analyst, NGO/not-for-profit marketing analyst, public relations director, sales manager, and social media manager.
DJ O'Leary, '19
Marketing and current MBA student
Quad Cities Center
My background is in sales. I like the aspect that marketing plays in sales. I hope to find a management position within marketing. It will allow me to grow my career and become successful in business.
Majoring in Marketing
About UIU's Marketing Degree Program
What is a Marketing Degree?
UIU's Marketing degree includes both descriptive and analytical approaches to marketing. You'll also gain a comprehensive view of consumer behavior by exploring emotional responses and psychological processes. This degree prepares you for success in all areas of business.
A minor in Marketing is also available if you're interested in the subject but plan to major in another area.
Getting Your Marketing Degree Online
Get the same high-quality marketing education that you would get from a UIU classroom — at home or in your office. Upper Iowa University offers a bachelor of Marketing online, as well as in-person and distance learning options to meet your educational needs.
How to Apply
To apply, visit our Online Application portal to create an account and start your application. Still unsure if the Marketing degree at Upper Iowa University is right for you? Reach out to our admissions office to ask questions or request additional information. They'll be happy to assist you.
Career Opportunities & Benefits
Careers in Marketing
With a Marketing degree, you can find employment within corporations, agencies, nonprofits and more. A bachelor's degree will prepare you for entry level positions, but with experience, you'll have opportunities to move into more senior roles. Some job titles that a Marketing degree prepares you for include:
Advertising Director
Brand Manager
Marketing Manager
Marketing Research Analyst
Public Relations Specialist
Sales Manager
Social Media Specialist
Not sure how to begin your job search? The UIU Office of Career Development provides complimentary services to help you get started.
Marketing Salary Information
Salaries for marketing professional will vary based on factors like your years of experience, title and location. However, according to the Bureau of Labor Statistics, some average salaries for marketing careers include:
Benefits of a Marketing Degree
A Marketing degree prepares you for success in a variety of industries. Companies in healthcare, technology, finance and beyond all require marketing professionals to help them create interest in products and services amongst their clients.
Your Marketing degree can also help you find an in-demand job. According to the Bureau of Labor Statistics, the job outlook for marketing managers and market research analysts is expected to grow 10%[1] and 22%[2], respectively, by 2030.
Getting a graduate degree can help you take your career even further. UIU's Master of Business Administration (MBA) is a great option for those who have completed their bachelor's degree in Marketing.
Degree Requirements, Skills & Certifications
Marketing Courses
UIU's curriculum helps you build a strong foundation of marketing knowledge that you can use every day on the job. You also have the option of completing an internship to gain hands-on experience and help build your resume.
Core courses focus on topics like:
Advertising and Integrated Marketing Communications
Branding
Consumer Behavior
Global Marketing
Marketing Research
Social Media Marketing
Marketing Skills
As a modern marketing professional, you'll need to think beyond traditional forms of media like print publications. You should have experience with email and digital marketing, including creating messaging for social media platforms. You'll also need a mix of soft skills and industry knowledge, including:
Communication
Creativity
Data Analysis
Project Management
Research
Time Management
Writing
Best Minors for Marketing Majors
Want to customize your degree to fit your career goals? Consider adding a minor. Some minors typically paired with a Marketing degree include:
Frequently Asked Questions (FAQs)
How long does it take to get a Marketing degree?
At UIU, you can complete your bachelor's degree in Marketing in about four years. UIU's unique course schedule breaks the academic year into four eight-week sessions and one accelerated six-week session. This allows you more time to focus on your courses and balance your academic life with your other commitments. Learn more about UIU's course schedule.
What degree should I get if I want to work in

M

arketing?
If you're interested in pursuing a career in marketing, you need a degree that's specifically tailored to giving you the foundational knowledge you'll need on the job. UIU's Marketing degree provides you with the marketing skills you need to succeed in all areas of business, and the curriculum includes topics like marketing research, branding and social media marketing.
Can I get a Marketing degree online?
Yes! UIU offers a bachelor of Marketing online, as well as in-person options at campuses across the country. Learn more about online learning at UIU.
UIU Locations for Bachelor's Degree in Marketing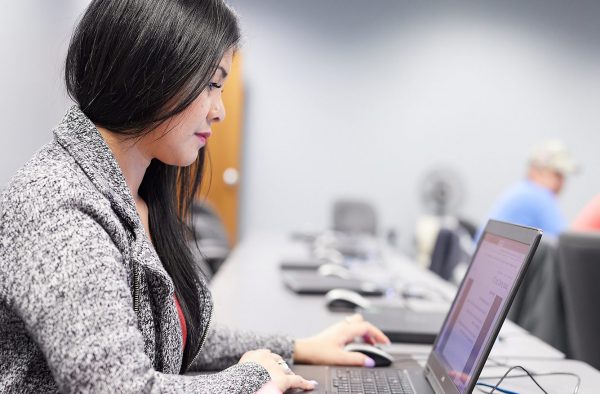 Convenient, Focused Scheduling
UIU Marketing students have the advantage of focusing on fewer classes at once with the Two-at-a-Time schedule. Plus, convenient evening or online courses ensure your education fits your unique lifestyle.
8
%
Projected growth in advertising, promotions, and marketing manager jobs from 2018 to 2028
12
:

1
Student to faculty ratio means small class sizes and one-on-one time with instructors
20
%
Projected growth in market research analyst jobs from 2018 to 2028
Admissions
When you're ready to apply for your bachelor's degree in Marketing, we're ready to help you every step of the way.
Go Further with an MBA
Earned your undergraduate degree in Marketing? Consider UIU's MBA program to advance your career even further.