Military & Veterans Admissions
Offering a wide variety of educational opportunities tailored to fit the dynamic lifestyle of today's military personnel, veterans and their families.
Online
Over 20 years of offering courses from a distance with our eight-week sessions and one six-week summer session.
Self-Paced
Programs with paper and web-based formats, when you don't have regular access to the internet, six-month courses with start dates each month.
Military Locations
Face-to-Face courses without leaving the installation: Fort Riley, KS, Fort Johnson, LA, New Orleans (Jackson Barracks), LA and Fort Sill, OK.
Our commitment to our service members allows you the opportunity to fulfill your military commitment without leaving your career objectives behind. We understand that your schedule and location can change suddenly, so we have programs that can help you in that transition.  Our courses can go with you, no matter where you are.
Upper Iowa has been named a top Military-Friendly University by Military Advanced Education and VIQTORY for many years.  We are proud to be a participating institution in the Principles of Excellence and Yellow Ribbon programs.  Please see the Military and Veterans Information Sheet that outlines why UIU might be right for you.
Military & Veteran Info Sheet
Military Viewbook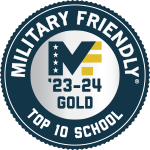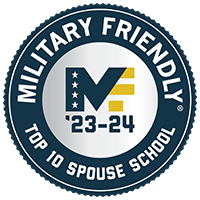 Navy College Program for Afloat College Education
Upper Iowa University's NCPACE-Self-Paced via Mail program provides a means for you to continue your education while at sea or on deployment when internet service is not available.
U.S. ARMY Ordnance School Partnership
This partnership aligns all three Ordnance training series with five UIU programs. UIU accepts military training for credit and will coordinate with your military obligations to fit a quality higher education into your busy life.
Military & Veterans
Service Center
The MVSC provides assistance in coordinating with academic advising, tutoring, counseling, disability accommodations, veteran programming, benefits information, financial aid, medical and additionally facilitates referral to state and federal resources and services.
Military Resources
Take advantage of some external resources when reviewing your educational needs.
Timothy Wright, '19
Social Sciences
Self-Paced Degree Program
UIU was the best choice for me. They accepted most of my Military Training, and made enrollment easier for me and my family. The staff encouraged, and insisted that I had an interest in that subject before I get to involved.