Financial Management
Available Online
Explore Your Program
Financial Management Courses
See course descriptions for the classes you need for your Financial Management degree, as well as any general education requirements.
Academic Calendar
Keep up with your academic program's registration deadlines, session dates, holiday breaks and exam schedules.
Careers in Financial Management
A degree prepares you for many careers, such as bank examiner, business analyst, credit analyst, and financial analyst.
Majoring in Financial Management
About UIU's Financial Management Degree Program
What is a Financial Management Degree?
By earning your Bachelor of Science in Financial Management from UIU, you'll be ready to confidently make effective financial decisions for today's business world.
Courses cover topics in accounting, finance, business administration and economics, so you'll graduate with a well-rounded education that prepares you to tackle whatever challenges come your way.
Interested in financial management, but not sure if you want to major in it? A minor in financial management is also available.
Getting your Financial Management Degree Online
Get the same high-quality financial management education that you would get from a UIU classroom — at home or in your office. Upper Iowa University offers an online financial management degree, as well as in-person and distance learning options to meet your educational needs.
How to Apply
To apply, visit our Online Application portal to create an account and start your application. Still unsure if the Financial Management Degree at Upper Iowa University is right for you? Reach out to our admissions office to ask questions or request additional information. They'll be happy to assist you.
Career Opportunities & Benefits
Careers in Financial Management
A degree from UIU in financial management prepares you to succeed in a rapidly growing job market. According to the Bureau of Labor Statistics, the expected job growth for financial managers and financial examiners by 2030 is 17%[1] and 18%[2], respectively. That's much faster than average when compared to job growth for all occupations.
A degree in financial management can prepare you for job titles including:
Financial Manager
Financial Examiner
Financial Analyst
Business Analyst
Credit Analyst
Looking for ways to stand out in the job market? Make sure you check out the UIU Office of Career Development for a variety of complimentary career services.
Financial Management Salary Information
There are a lot of different roles you can pursue within financial management, and your salary will vary based on factors like location, job title and years of experience. However, according to the Bureau of Labor Statistics, some average salaries for jobs within the field include:
Benefits of a Financial Management Degree
A Financial Management Degree helps you build a strong foundation of business skills that you can leverage into a successful career. You can use the knowledge you gain in this program to pursue roles at a variety of different companies, including for-profit, non-profit and government agencies. And, with opportunities in this sector continuing to grow,[1][2] now is a good time to enter the field.
Thinking of pursuing a graduate degree? A Bachelor of Science in Financial Management is also a great springboard for earning your Master of Business Administration (MBA).
Degree Requirements, Skills & Certifications
Financial Management Courses
As a student in UIU's Financial Management Degree program, you can expect to take courses in a range of finance and business areas. This means that you'll graduate with knowledge in many financial topics.
The curriculum includes courses in topics like:
Investments
Risk Management
Cost Accounting
Bank Management
International Trade
You also have the option to complete an internship or special project to gain additional skills and experience.
Financial Management Skills
Working in financial management requires a mix of industry-specific knowledge and soft skills to do your job well. Some core areas of focus in your courses are:
Accounting
Investing
Management
Since you need more than just business and technical knowledge, the soft skills you'll often use on the job include:
Leadership
Communication
Problem solving
Best Minors for Financial Management Majors
Want to customize your degree? Adding a minor can help you better tailor your education to your career goals.
Some minors typically paired with a Financial Management Degree include:
Many graduates also go on to pursue their master's doctoral degree. UIU offers a Master of Business Administration (MBA) for those who want to further their education.
Frequently Asked Questions (FAQs)
What can I do with a degree in financial management?
Many careers in financial management require a bachelor's degree. Earning a Bachelor of Science in Financial Management from UIU prepares you for positions across the field, including roles as a financial manager, analyst, examiner and more.
Can I get a degree in Financial Management online?
Yes! At UIU, you can pursue your degree at our Fayette campus, online or at any of our U.S. centers.
UIU Locations for Bachelor's Degree in Financial Management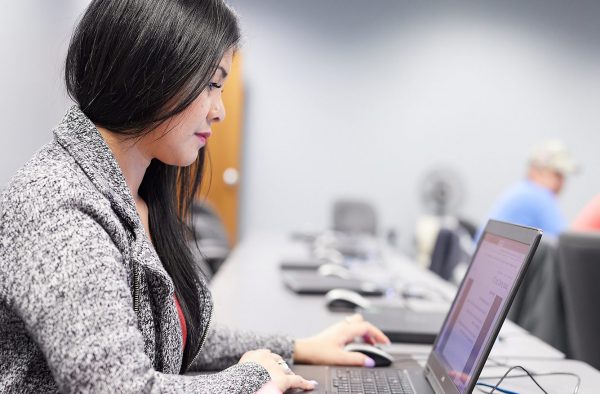 Convenient, Focused Scheduling
UIU Financial Management students have the advantage of focusing on fewer classes at once with the Two-at-a-Time schedule. Plus, convenient evening or online courses ensure your education fits your unique lifestyle.
6
%
Projected growth in financial analyst jobs from 2018 to 2028
12
:

1
Student to faculty ratio means small class sizes and one-on-one time with instructors
96
%
UIU graduates employed or continuing their education within 12 months of graduation
Admissions
When you're ready to apply for your bachelor's degree in Financial Management, we're ready to help you every step of the way.
Go Further with an MBA
Earned your undergraduate degree in Financial Management? Consider UIU's MBA program to advance your career even further.