Communication Studies
:
Available Online
The UIU Advantage
UIU's comprehensive bachelor's degree in Communication reflects the diverse skillset that communication media professionals need to be successful in today's world. Our Media and Communication Studies program offers unparalleled opportunities and experiences to gain proficiency in writing, speaking and visual communication. Prepare for a rewarding career in a rapidly growing field by choosing UIU.
Why Communication Studies at UIU?
UIU's Media and Communication Studies program features three areas of emphasis to choose from, including Communication Studies, Mass Media and Sports Communication. You'll graduate with the practical knowledge, skills and hands-on experience needed to enter the workforce or pursue an advanced degree.
Communication Studies: The Communication Studies emphasis helps you develop in-demand communication skills that can be applied across industries. Broad academic curriculum paired with hands-on learning opportunities teach you how to create and convey messaging to target audiences.
Public Relations: Companies and organizations of all kinds need professionals to help them communicate in a challenging, ever-changing media landscape. The Public Relations emphasis prepares you for these roles by combining in-depth theory and hands-on learning experiences where you'll craft features, blogs, social media and podcasts.
Sports Communication: The Sports Communication degree guides you toward a career in sports communication professions. Through on- and off-campus internship opportunities with teams, clubs and sport agencies, you'll understand and take advantage of the relationship between sports, media, business and fandom. You'll also develop writing and research skills in print, broadcast and digital media.
As a Communication Studies major at UIU, you'll learn from respected faculty who are experts in the fields they teach. Small class sizes ensure that students receive individualized attention from faculty.
Explore Your Program
Communication Studies Courses
See course descriptions for the classes you need for your Communication Studies degree, as well as any general education requirements.
Academic Calendar
Keep up with your academic program's registration deadlines, session dates, holiday breaks and exam schedules.
Careers in Communication Studies
A degree prepares you for many careers, such as assistant athletic director, assistant sports information director, athletic team publicist, broadcast videographer, journalist, public information officer, public relations writer, radio and television newscaster/sportscaster, sports marketer, and television and radio sports writer.
Dominic Hillesheim, '18
Marketing and Communication Studies
Upper Iowa is an extremely special place and I could not think of a better university to receive a high level education from and play collegiate sports for. The family atmosphere at Upper Iowa is second to none, and you are part of the Peacock family the second you step on campus. The Family atmosphere comes largely from the small class sizes where you are taught directly from your professor, every day. This allows you to have face to face interaction and really get to know your professors. All of your questions can be answered as you receive individual attention in the classroom and/or during office hours.
Majoring in Communication Studies
About UIU's Communication Studies Degree Program
What is a Communication Studies degree?
UIU's bachelor's degree in Communication emphasizes the important role communication plays in our lives. Media and Communication studies will help you identify and evaluate communication goals to deliver messaging in real-world settings. As a Communication Studies major, you'll learn how to apply methods of new and emerging media trends and technology in a professional setting.
A minor in Communication Studies is also available if you're interested in the subject matter but plan to major in another area.
Getting your Communication Studies Degree Online
Get the same high-quality education that you would receive in a UIU classroom, at home or in your office. UIU offers an online Communications degree program as well as in-person and distance learning options to meet your educational needs.
How to apply
To apply, visit our Online Application portal to create an account and start your application. Still unsure if a bachelor's degree in Communication is right for you? Reach out to our admissions office to ask specific questions or request additional information.
Career Opportunities & Benefits
Careers in Communication Studies
Media and Communication studies opens the door to a variety of careers. UIU's areas of emphasis guide you toward the path that best suits your interests and future goals. Graduates pursue jobs in journalism, corporate marketing, advertising, public relations, government, sports communication and more.
According to the Bureau of Labor Statistics, employment in media and communications-related careers is expected to grow 14% from 2020 to 2030, faster than the average for all occupations.[1]
A bachelor's degree in Communication can prepare you for job titles like:
Journalist/Reporter
Public Relations Writer
Radio and Television Newscaster/Sportscaster
Sports Marketer
Television and Radio Sportswriter
Athletic Team Publicist
Broadcast Videographer
Before you start your job search, remember to visit the UIU Office of Career Development for complimentary services that can help you find the perfect job.
Communication Studies Salary Information
Salaries for graduates with a bachelor's degree in Communication vary based on factors like job title, location and years of experience. According to the Bureau of Labor Statistics, some average salaries for communications-related careers include:
Benefits of a Communications Studies Degree
Being an effective communicator gives you a competitive advantage in the job market. Communication Studies majors at UIU graduate with practical knowledge and skills that are highly valued by employers across a wide range of professions and industries. A degree in Media and Communication Studies readies you to apply communications concepts, methods and tools to deliver real results in the workplace.
Communications Studies Requirements, Skills & Certifications
Communications Studies Courses
UIU's engaging curriculum covers a broad range of communications topics. Through lectures, case studies, practical guided workshops and hands-on training, you'll explore the evolution of communications. With an expansive course selection, including three areas of emphasis, you can specialize in the area that is of greatest interest to you.
Core courses in Media and Communication Studies include:
Introduction to Mass Media
Public Speaking
Communication Theory
Communication and Media Ethics
Communication Studies Skills
As a Communication Studies major, you'll enter the workforce with hard and soft skills that are transferrable personally and professionally. A few examples include:
Public Speaking
Research and Analysis
Writing
Content Strategy and Development
Media Relations
Critical Thinking
Problem Solving
Interpersonal Communications
Visual Design
Creativity
Best Minors for Communication Studies Majors
UIU offers many minors that complement a bachelor's degree in Communication. While optional, selecting a minor provides an opportunity to explore a related interest while enhancing your resume. Some minors commonly paired with a degree in Media and Communication Studies include:
Frequently Asked Questions (FAQs)
Can you get an online communications degree?
Yes! UIU offers students the same high-quality Communication Studies education online as you would receive in the classroom. Students can choose from several convenient Distance Learning options.
How long does it take to get a media and communication studies degree?
At UIU, you can complete your bachelor's degree in Communication in about four years.
UIU's unique course schedule breaks the academic year into eight-week sessions and an accelerated six-week summer session. This allows you more time to focus on your courses and balance your academic life with your other commitments.
Learn more about UIU's course schedule.
What can I do with a communications degree?
Graduating with a bachelor's degree in Communication from UIU prepares you for careers in an array of professions and industries. The ability to choose an area of emphasis as well as a minor, allows you to tailor your education to your professional aspirations. You can pursue a rewarding career as a reporter, editor, copywriter, sports marketer, and more. The opportunities are endless!
UIU Locations for Bachelor's Degree in Communication Studies
: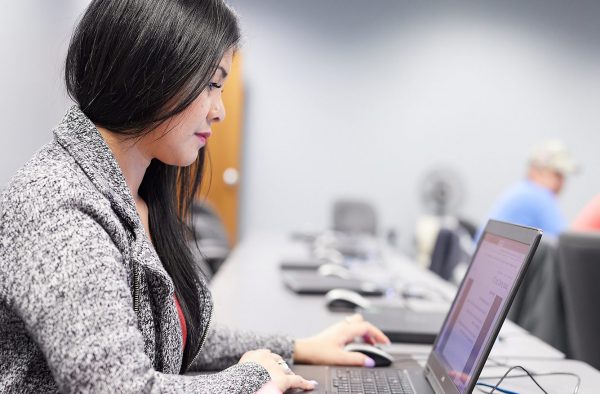 Convenient, Focused Scheduling
UIU Communication Studies students have the advantage of focusing on fewer classes at once with the Two-at-a-Time schedule. Plus, convenient evening or online courses ensure your education fits your unique lifestyle.
6
%
Projected growth in public relations specialist jobs from 2018 to 2028
12
:

1
Student to faculty ratio means small class sizes and one-on-one time with instructors
8
%
Projected growth in public relations and fundraising manager jobs from 2018 to 2028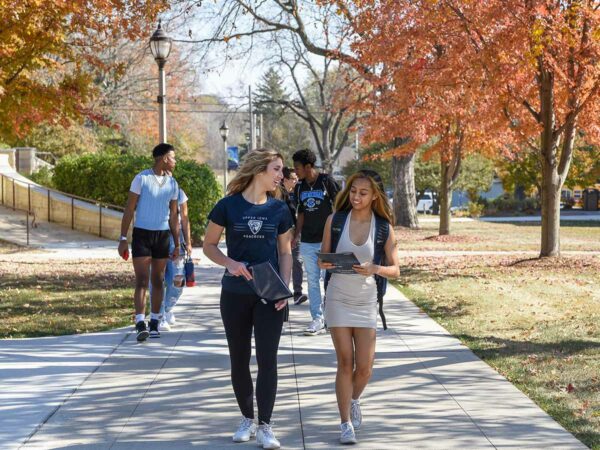 Admissions
When you're ready to apply for your bachelor's degree in Communication Studies, we're ready to help you every step of the way.