One of the best ways alumni can give back to their alma mater is the gift of a student referral. With this in mind, UIU's Alumni Office is excited to announce the new Alumni Referral Award, which provides a tuition award of up to $4,000 to students attending as a result of an alumni referral!   
Simply use the Alumni Referral Award form below to share information about a student (or several!) you know who you think should join our Peacock Family. Referrals are encouraged for any NEW prospective UIU students who have reached their junior year in high school or beyond, regardless of whether they wish to take classes at Fayette Campus, other UIU locations, self-paced or online. 
Our Admissions team will be alerted to your referral, and if that student attends UIU, they will receive a tuition award of up to $4,000 in YOUR name ($500 per semester – 8 semesters total). Alumni who successfully refer students will be recognized by the Alumni Office. Thank you for helping to grow our flock! 
*Scroll down to the FAQ section for some additional information. 
Click here to view alumni who've made a referral!
(updated 11/28/2023)
Bridget (Pfiffner) Adam '02
Teshara Aisola '17
Jason Alber '14
Arthur Alvarez '00
Spenceyawnti St. Amant '22
Daniel Anderson '13, '21
Jessica Armstrong '21
Miquel Aubert '20
Cynthia Babb '22
Angela (Kuntz) Bacon '98
Nikki (Petersen) Bergmeier '18
Tina (Harris) Biddle '19
Adam Bierstedt '23
Katelyn Billot '23
Marnie Brown '15
Dawn (England) Bull '22
Tony Burrell '15
Felicia Bush '23
Joshua Carpenter '22
James "Jim" Clark '73
Lynell Clark '20
Heidi Clement '17
Damien Collier '12, '19
Devery Cook '21
Billie (Hunt) Cowley '03, '08
Angalisa (Guerrero) Cruz
Crystal Cryer '99
Lisa (Oelkers) Daak '98
Melissa Davis '19
Jenn Day '22
Deauna Dobard '22
Keith Dowling '16
Dustin Ducote '18
Clarisa Duplessis '21
Dixie (French) Dusang '22
Walter Edmond '21
Sharonda Cooper-Epps '17
Chanel Favaroth '20
Jamie Fleming '21
John Fulgencio '18
Robert Fulwood '96
Lawanna Gaylen '19
Jessica Goltz '21
Shay Gonzalez '21
Diandra Grasty '18
Khadijah Gray-Washington '21
Tasha Green '18
Angela (Nelson) Guillot '20, '21
Tyler Hardeman '14
Damond Harris '13
Hailee Hernandez '19
Kayla Hess '19
Deneisha Hicks '21
Trista Hill '20
Melvin Hunter '20, '21
LaFrancis Hurts '17, '20
Stephen Ingargiola '15
Tasha Jenkins '21
Jocelyn Jensen '16
Alison Johnson '19, '21
Callie Johnson '17, '18
Salogne Johnson '18, '20
Latoya Jones '18
Michail Jones '20
Ray Jones '17
Lacey (Brown) Kelly '19
Diana Kinchen '22
Patricia (Horton) King '21
Shane Knoche '95
Denisha Knox '21
Lance Kramer '16
Heidi Kriener '11
Zakary Kriener '14
Destiny Lacey '17
Mary Landry '21
Michelle Lane '14, '16
Rebekah (Johnson) Lockridge '11
Tianay Marshall '20
Jules Martin III '21
Kelly (Horming) Maymon '93
Nate Mendoza '07
Todd McKay '98
Tracy (Gorham) McKim '18
Vicki Melton '08
Jeanne (Raymond) Mentel '18
Mariah Mickens '22
Douglas Moore '94
David Mowers '15
Patrick Nachtman '20
Patricia Nettleton '15
Ryan Noonan '13
MacKenzie Olsen '22
Julie Parnau '20
Coshannon Pierson '22
Amy (Dean) Popenhagen '06
David Praska '10
Kari Ratkovich '22
Kirsty Robinson '20
Sandra Robinson '13
Micki (Hoodjer) Rodruck '95
Anthony Rome '12, '22
William Roths '74
Douglas Roy '06
Cathy (Carolan) Sabelka '12
Christopher Scheeler '15, '17
Mike Schrock '92, '21
Yolanda Scott '22
Kevin Simmons '22
Wayne Slack '03
Ebony Smith '23
Jon Smith '97
Quinta Smith '21
Heather (Olson) Sorenson '16
Tera (Bunn) Sperfslage '96
Ross Steinbronn '12, '22
Kayli (Heine) Stohr '17, '20
Jada (Sternhagen) Stuckey '14, '18
Edward Tahhahwah '22
Jake Taylor '16
Kaitlin Teff '19
Angela Thompson '21
Jeffrey Vappie II '17
Randall Vetter '15
Pete Weber '18
John Wild '21
Mark Wooden '19
Erik Zumsteg '20
Frequently Asked Questions
What is the Legacy Scholarship? (Attention: Parents Who are Alumni!)
The Legacy Scholarship is available to dependents of previous graduates of Upper Iowa University.  Students must be enrolled full-time to qualify.  This grant will apply to children including adopted or legal step-children and will not exclude those children who are independent of the family due to marriage or age.  
If you are a parent (and UIU alum!) be certain to inquire about the Legacy Scholarship with your student's UIU Admissions Counselor.
Is the student eligible if they've already inquired?
This particular award is for NEW student inquiries. If a student has already submitted a formal inquiry with UIU Admissions, been on a campus tour, or made a deposit to enroll, they are not eligible for this award.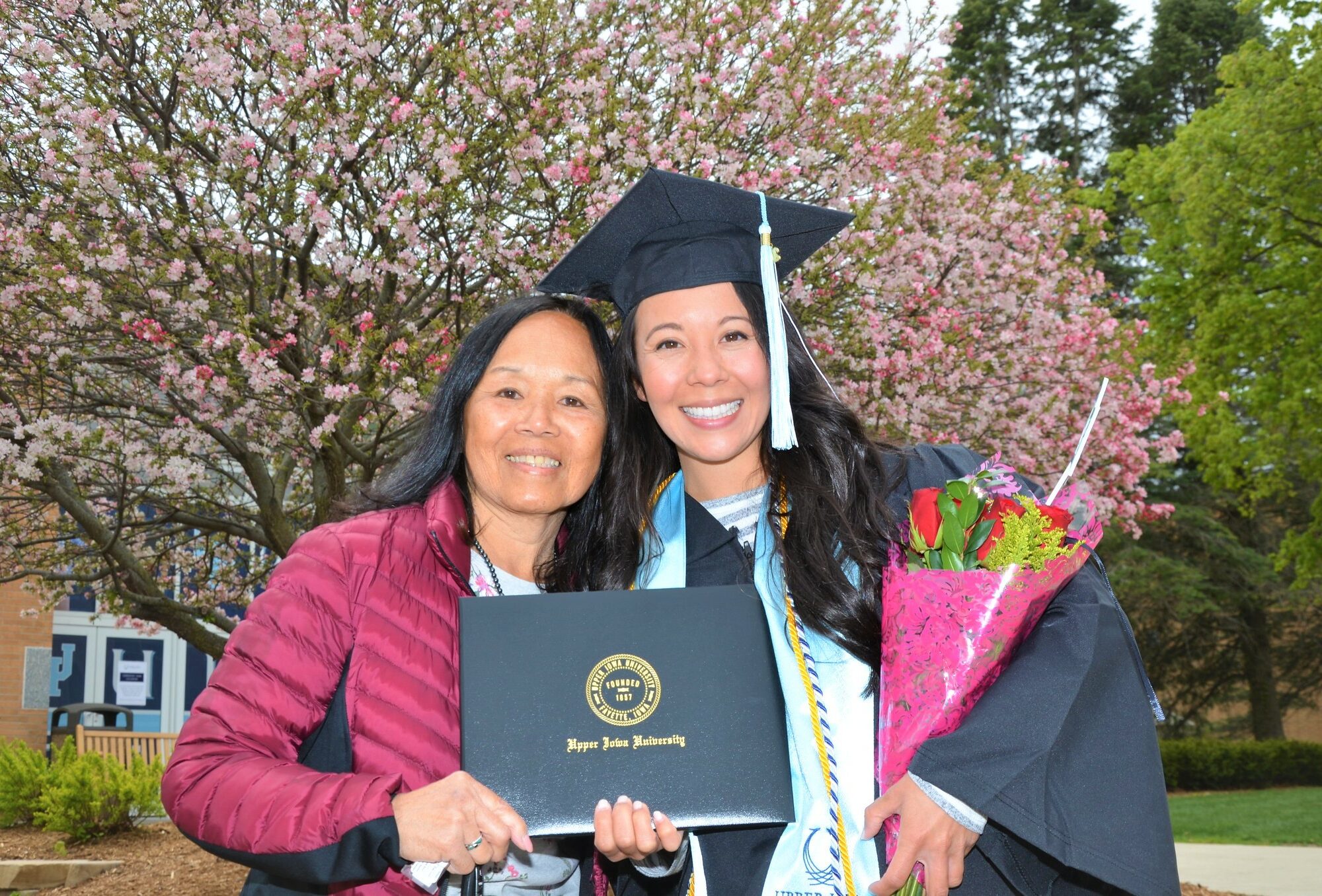 Make a Difference
One of the best ways an alumni can give back to their alma mater is the gift of a student referral.