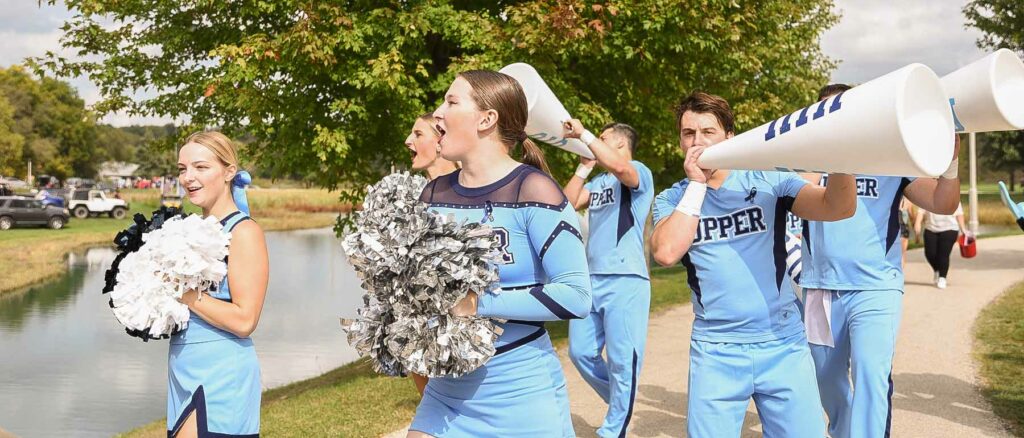 Crisp cool mornings, gorgeous fall colors setting in, and bleachers full of football fans. Fall is here; which means Upper Iowa Homecoming is near! UIU Alumni, community members, and all Peacock supporters are invited to celebrate Homecoming Week, October 3-8. Tipping its hat to the popular Top Gun – Maverick movie craze, this year's theme is "Peacocks Take Flight."
Among traditional favorites, the University is ecstatic to introduce a few brand-new offerings to its schedule. The Homecoming Golf Tournament on Friday, October 7 at 10 a.m. is open to all. Hosted by members of SOB and FOXES, the cost is $250 per person and all proceeds support the Peacock Athletic Fund.
Also new, in partnership with downtown businesses and other local vendors, Fayette's Main Street Market will take place Saturday, October 8 from 10 a.m. to 3 p.m. (downtown Fayette). Crafts, décor, clothes, homemade goodies, and more will be set up for all to enjoy. To register as a vendor, contact Crawford Creations at 563-380-2664 or [email protected].
And yet another new offering is the Homecoming Dance on Saturday, October 8. The post-game event will be held at Pete's Bar & Grill in downtown Fayette, starting at 9 p.m. Guests may enjoy free admission, music by "DJ IB," and food and drinks available for purchase.
This year's Grand Marshals will be Roger '62 and Alice '61 Mangan. The couple met on Fayette Campus as students over sixty years ago and have been longstanding supporters of UIU ever since. Roger was inducted into the UIU Hall of Fame in 2014 for his outstanding wrestling collegiate career. He has served as a Board of Trustee member since 2018. Alice was instrumental with the President's Residence and campus beautification project and continues to promote student involvement and alumni engagement. The couple resides in Littleton, Colorado where they own and operate one of the largest State Farm agencies in the Denver metropolitan area.
Other special guests of the 2022 Homecoming celebration are Alumni Award honorees Dominic Hillesheim '18, Chicago, Illinois (Service to Community); Ben Corell '95, Harpers Ferry, Iowa (Service to Country); Elizabeth "Beth" (Streicher) Alverson, Mason City, Iowa (Professional Accomplishment); Jerry Gazaway '66, Marshalltown, Iowa (Service to University); Jake Bass '14, Independence, Iowa (Emerging Alumni). The five award winners will be recognized during the Alumni Awards & Honor Class Brunch scheduled for 9:30 a.m. in the Student Center Ballroom on October 8.
Additional information about the Homecoming grand marshals, alumni award recipients, and royalty candidates will be announced in the near future.