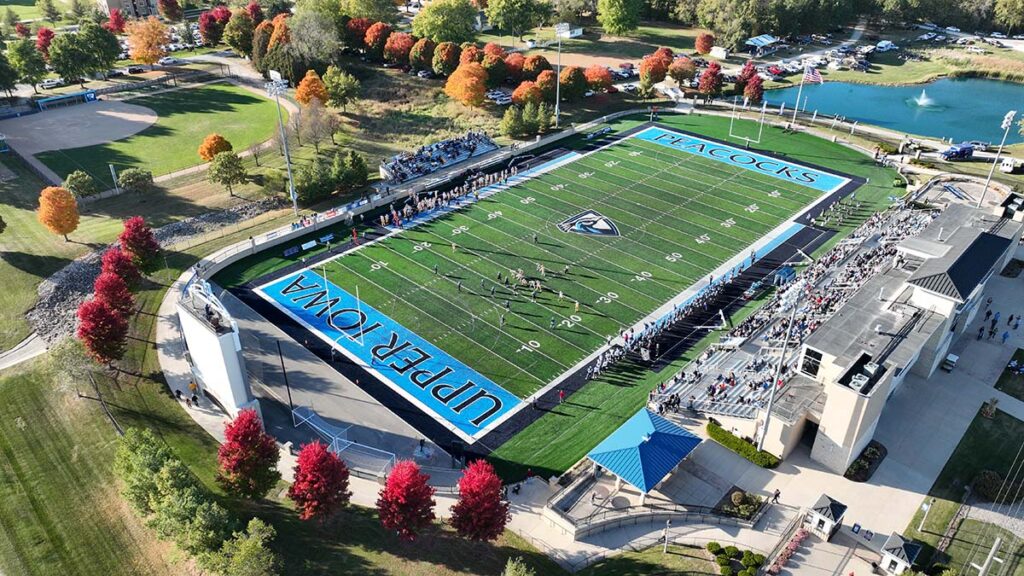 "Graduates – today is your day. Enjoy each and every moment with your family and friends."
Commencement speaker Sue Crafton Regan shared these words of celebration with Upper Iowa University's (UIU) 2023 graduates as part of her address during UIU's 166th Commencement ceremonies at Dorman Gymnasium in Fayette Saturday, May 6.
Regan graduated with majors in physical education and psychology from UIU. She was instrumental in starting women's athletic programs at the University of Wisconsin-La Crosse and Seton Hall University. Regan was the first woman to hold the position of Director of Athletics at a Big East School, Seton Hall University, and one of the few to run a Division I athletic program. Sue also served on a number of committees to help further women's athletics, such as the Eastern Association of Intercollegiate Athletics, the Big East Conference Compliance Committee, WBB Committee, Championship Committee, and Chair, Women's Soccer Committee. On the national level she was a member of the Women's Basketball USA Olympic Coaches Selection Committee for several years.
"Abraham Lincoln said "I will study and prepare myself and perhaps someday my chance will come." What prepares you? I believe 3 components are essential," Regan continued. "Support of community, education and bravery are the underpinnings of preparation for success. As Lincoln suggests, being prepared when you are given an opportunity is what makes you lucky!"
Regan closed her remarks by stating "I'm optimistic about our future. I'm impressed by the ingenuity of our youth and their activism. Everyone of all ages…. You can make a difference. I urge you to use your voice, don't sit on the sidelines."
Earlier, when welcoming those attending the ceremony, UIU President William R. Duffy impressed upon the graduates and their supporters, the importance of their accomplishment.
"Nothing is more momentous and more important to this University than our Commencement, which recognizes the achievements of you, our graduates, and the dedication of all those involved with their success," Duffy said.
Approximately 350 students were recognized for earning their respective degrees at the day's two ceremonies. Receiving the Csomay Honors Program medallions were Isabelle Bergsbaken, a history major from Oconto, WI; Carter Harris, an all-science major from Saint Cloud, FL; Deanna Hopkins, a biology major from Waco, TX; Sarah Johnson, a business administration major from Elk River, MN, and Callista Rochon-Baker, a psychology major from Oshkosh, WI.
Student Government Association outgoing president, Katie O'Brien assisted in closing the ceremony with a final congratulations to her peers and an introduction of the 2023 commencement video.
A private, nonprofit university, UIU provides undergraduate and graduate degree programs to almost 5,000 students at its main Fayette Campus and education centers across the U.S. Images from the 2023 ceremonies will continue to be posted over the coming days at www.flickr.com/upperiowauniversity.