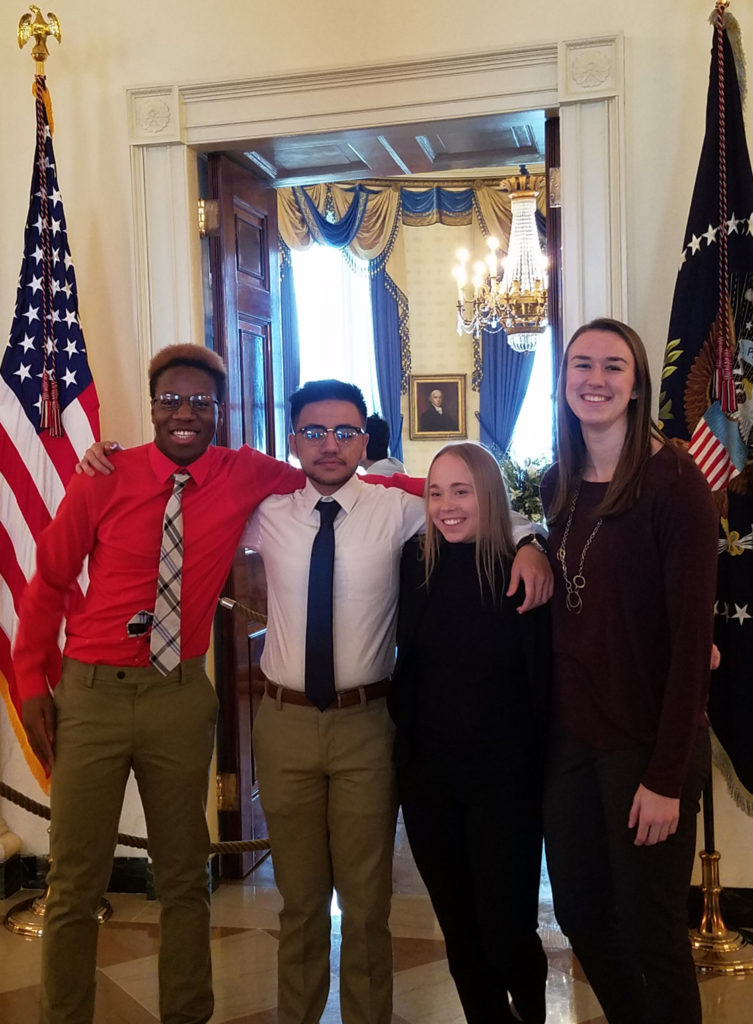 FAYETTE, Iowa (February 25, 2019) – Attending the recent American Association for the Advancement of Science (AAAS) annual meeting in Washington, D.C., provided a contingent of 20 Upper Iowa University students, faculty and staff the opportunity to discover firsthand how science assists in connecting people, ideas and solutions from across real and artificial borders and disciplines worldwide.
UIU Delano Professor of Science Dr. Katherine McCarville explained that the experience provided the students a unique interdisciplinary blend of more than 120 scientific sessions, lectures, specialized seminars, flash talk sessions, e-poster presentations and an international exhibit hall. In addition to personally meeting with Iowa Senator Joni Ernst and Iowa Congresswoman Abby Finkenauer, the UIU contingent also visited the White House, Capitol and other Washington, D.C., landmarks.
McCarville observed three key benefits or areas of growth in the UIU students who attended the event. She noted many of the students experienced the logistical requirements of travel and utilizing a metro transit system for the first time. With each tour stop, the students also witnessed the amount of planning organizations are required to put into their work.
"Most importantly, the conference definitely changed the nature of conversation the students shared with each other and with faculty," McCarville said. "There was a huge presence from the European Union, Africa and South America at the annual meeting and the students learned there is a whole world out there to expand communication in instrumenting new ideas. They discovered that their STEM education transcends far beyond whatever we do in the classroom. Networking can work to solve global challenges."
"I think STEM will continue to play a bigger role in policy making and scientists will continue to push the limits of human knowledge," Anna Winter, a UIU mathematics/biology major from Rochester, Minnesota later agreed. "The AAAS Conference gave me a better idea of the broad scope of science and the many ways it can be applied."
The majority of UIU students who attended the four-day AAAS "Science Transcending Boundaries" annual meeting are members of the University's Louis Stokes Alliances for Minority Participation (LSAMP) and Scholarships in Science, Technology, Engineering, and Mathematics (S-STEM) programs.
In addition to Winter, the participating students included Titus Bell, Chicago, Illinois; Ashley Buchtela, Oelwein, Iowa; Imani Corneliius, Shakopee, Minnesota; Joshua Heermance, Royal Palm Beach, Florida; Hanna Hellstroem, Oernskoeldsvik, Sweden; Meghan Klein, Dysart, Iowa; Charnae McCullum, Springfield, Illinois; Hannah Myli, Des Moines, Iowa; Oscar Richmond, Peoria, Illinois; Gabrielle Palomo, Homewood, Illinois; Caitlin Schauer, Waseca, Minnesota; Sara Zainal, Fayette, Iowa; Syafiq Zainal, Fayette, Iowa; Janefa James, Des Moines, Iowa; Priyanka Jayasawal, Fayette, Iowa; Egdalith Diaz, Chicago, Illinois; and Winter. Accompanying the students were McCarville, Professor of Physics and Mathematics Dr. Nigel George and Assistant Dean of Student Life Daryl Grove.
The students will present a trip report on Wednesday, February 27. The event will begin at 2 p.m. in Baker Hebron Room 101 at UIU's Fayette Campus. The public is welcome to attend.
The American Association for the Advancement of Science is a nonprofit professional society dedicated to the advancement of scientific and technological excellence across all disciplines, and to the public's understanding of science and technology. AAAS is among the oldest scientific societies in America, having been founded in Philadelphia in 1848.