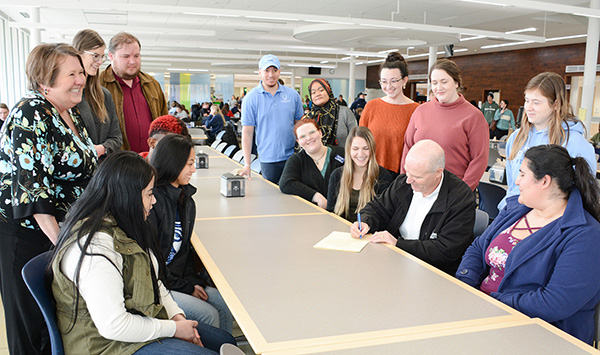 Upper Iowa University will conclude its recognition of Sexual Assault Awareness Month (SAAM) during National Denim Day Wednesday, April 27. Denim Day was created following a ruling by the Italian Supreme Court, where a rape conviction was overturned because the justices felt that since the victim was wearing tight jeans she must have helped the person who raped her remove her jeans, thereby implying consent. The following day, the women of the Italian Parliament came to work wearing jeans in solidarity with the victim.
Peace Over Violence developed the Denim Day campaign in response to the case and the activism surrounding it. Since then, what started as a local campaign to bring awareness to victim blaming and destructive myths that surround sexual violence has grown into a movement. As the longest running sexual violence prevention and education campaign in history, Denim Day asks community members, elected officials, businesses and students to make a social statement with their fashion statement by wearing jeans on this day as a visible means of protest against the misconceptions that surround sexual violence.
UIU President William R. Duffy II proclaimed April as Sexual Assault Awareness Month at the University Thursday, March 31. In the early 2000s, the primary goal of SAAM was awareness — both raising visibility of the teal ribbon and the meaning behind it. By the mid-2000s, SAAM incorporated prevention more heavily, focusing on areas such as communities, workplaces, and college campuses. These campaigns discussed strategies for individuals and communities to stop sexual assault before it happens through promoting behavior change and respect.
During the Fayette Campus SAAM activities, UIU's Project Stand UP also hosted a Perfect Party Wednesday, April 20. The event included a display provided by Riverview Sexual Assault Center. The "What Were They Wearing" exhibit featured clothing and stories of sexual assault survivors.  The goal of Project Stand UP is to address sexual, domestic, stalking and dating violence across all university campuses. Project Stand UP is supported by grant funding, which is awarded by the U.S. Department of Justice Office on Violence Against Women.