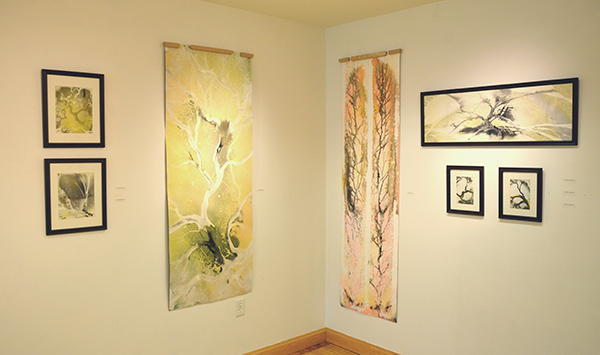 The 2020-21 Bing-Davis Memorial Gallery schedule opened at Upper Iowa University's Fayette Campus on August 31 with the featured works of UIU alumnus Andrew J. Wroble.
A native of Casper, Wyoming, Wroble studied art at Southern Illinois University, University of Minnesota, Ellsworth Community College and the University of Iowa. He earned a Bachelor of Science degree at UIU. Forest forms often highlight the imagery of the now Harpers Ferry, Iowa, artist, who uses ink drawing to express a universal reference for dispersal and connectivity.
"My ink wash drawing breaks away from traditional landscape art in technique and focus," Wroble said. "Form takes shape out of my memory. Scenes run beyond the page border to suggest an infinite space is hidden beyond. Trees and air are modeled for their natural behavior in the environment rather than being presented as graphic realism. This allows the subjects in the landscape to seemingly float and undulate. It relates meaning for a moment at hand."
The ongoing UIU exhibit represents the artist's studio production from February through July 2020.
"Trees, color, air and drawing are clearly Wroble's way of working through these uncertain times and his work is influenced by the news and life," Laura Gleissner, UIU assistant professor of art, said. "Each piece is titled with the date it was produced and categorized by his thoughts at the time. Having the gallery full of so much wonderful work again brings added joy and beauty to the UIU Campus and community."
The complete 2020-21 Bing-Davis Memorial Gallery artist schedule is as follows:
August 31 – October 4: Andrew J. Wroble, Harpers Ferry, Iowa
October 12 – November 13: Agnes Ma, Denver, Colorado
November 19 – December 18: Stephanie Chambers, Temple, Texas
January 11 – February 12: Dominic Sansone, St. Charles, Illinois
February 22 – March 19: Jave Yoshimoto, Omaha, Nebraska
March 29 – April 16: Jason Ramey, Morris, Minnesota
April 26 – May 8: UIU Senior Thesis
This year's seven exhibits will include an online video interview featuring each of the participating artists. Additional information about the artist interviews and their respective exhibits will be announced at a later date.
Bing-Davis Memorial Gallery is located in Edgar Fine Arts Hall at UIU's Fayette Campus. The gallery is open 8 a.m. to 5 p.m. Monday through Friday. Hours are subject to change. Social distancing and face coverings are required at the Gallery and at Fayette Campus.