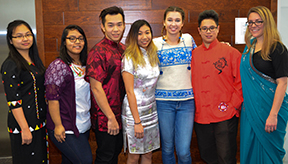 FAYETTE, Iowa (November 6, 2018) – Upper Iowa University's (UIU) Center for International Education is encouraging the entire Peacock community to "Learn Through Others' Eyes" as part of International Education Week Monday, November 12 – Friday, November 16. International Education Week is an opportunity to celebrate the benefits of international education and exchange programs worldwide. A joint initiative of the U.S. Department of State and U.S. Department of Education, the annual event promotes programs that attract future leaders from the United States and abroad to study, learn and exchange experiences.
"We invite the public to join us in celebrating the cultural diversity enjoyed by the UIU family as many of our students, faculty and staff showcase their heritage during the weeklong event at Fayette Campus," UIU Coordinator for International Student Services Megan Kohr said.
The 2018 UIU International Education Week festivities include the following events:
Monday, November 12 (International Dress Day) – UIU World Cup Soccer Tournament begins at 6:30 p.m. in the Rec Center. The 5-on-5 teams can sign up at bit.ly/2O4COhd. Prizes will be awarded to the winning team.
Tuesday, November 13 – Faculty members present their study abroad experiences from 12:15 – 12:45 in Andres Center Room 105 (Note: Location change). International Trivia Night from 7 – 8:30 p.m. in Ballroom C. Trivia Night registration is available at bit.ly/2AsuB2R.
Wednesday, November 14 (in collaboration with UIU Career Development) – "Telling Your Story" will be held from 6 -7 p.m. in Student Center Ballroom A. The workshop will provide study abroad students the opportunity to learn to discuss with employers how they most benefitted from their experience(s) abroad.
Thursday, November 15 (in collaboration with UIU Career Development) – Study Abroad Fair from 11 a.m. – 1:30 p.m. in Student Center lower level. International Coffee from 3 – 4 p.m. in Student Center lower level. Passport Application Workshop from 4:30 – 6 p.m. in Liberal Arts Room 111.
Friday, November 16 – From 12:15 – 12:45 pm. in Ballroom C, faculty will learn how to advise students interested in the UIU Study Abroad program. Topic discussions include: "How to Help with a Student's Degree Plan," "Understanding Your Role in the Student's Application Process," and "How to Obtain UIU Course Approval for Study Abroad Classes."
Daily – Passport pictures will be taken at a discounted price of $5 from 8 a.m. – 5 p.m. in the Student Life Suite, located on the second floor of the Student Center. Table etiquette and other information related to different cultures will be available in the UIU Student Center. Note: International food options will be available in the Servery during lunch hours on Monday, Tuesday, Wednesday and Friday.
The UIU Center for International Education (CIE) is responsible for all internationalization initiatives at Fayette Campus. The CIE coordinates international admissions, international student and scholar services, education abroad, Intensive English programming, and the UIU-Malaysia and UIU-Hong Kong centers.