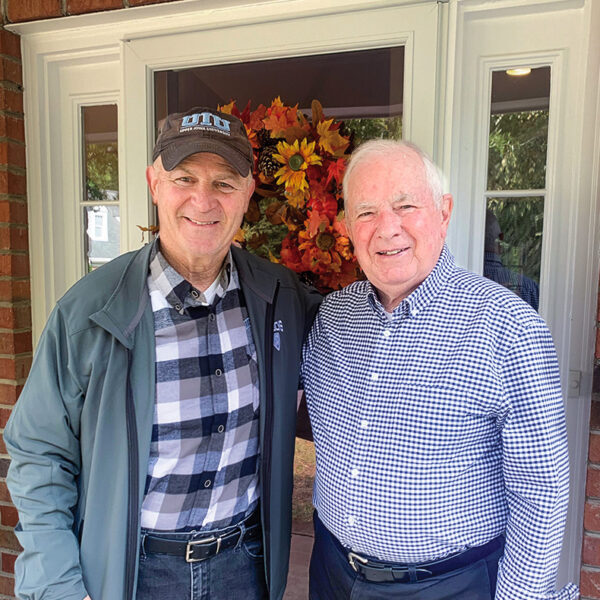 Who knew air-conditioning could be so important? For Ed Spring '76, a desire to get out of the sweltering Jacksonville, Florida heat turned into a 50+ year career in aviation. Spring was stationed as a Marine in Jacksonville in 1954 and wasn't sure what his military assignment might be. When he was shown an airport traffic control tower for the first time and realized it was air-conditioned, he applied for that training school and was accepted.
Spring's career in aviation ended up putting him front and center to history. Spring was a civilian aircraft controller in Saigon, Vietnam, during the 1968 Tet Offensive and spent 36 hours under siege while directing inbound military and civilian air traffic to alternate safe landing destinations outside of the country.
While still in Saigon a few months later, Spring was controlling traffic when President Lyndon Johnson flew into Vietnam to visit the troops at Cameron Bay. The USAF controller at Cameron Bay was so impressed by the presidential visit he forgot to tell Ed via landline the plane had taken off and was heading south to leave Vietnam. As a result, Air Force One popped up on Ed's radar without warning, nose to nose with a medical evacuation C-141 aircraft heading to Japan with a plane load of wounded. Federal regulations dictate that Air Force One, with the president on board, has priority over ALL other aircraft. To avoid delaying the wounded heroes, Ed decided to ignore this rule and directed the president's plane to turn off course and avoid the planeload of wounded soldiers. The pilot complied when he was advised of the situation and never complained.
After discharge from the Marines, Spring was hired by the Federal Aviation Administration (FAA). Spring was an executive in the FAA when President Ronald Reagan eliminated striking air traffic controllers. Spring spent the latter part of his career as a sought-after aviation consultant in air traffic control matters including modernization both domestically and internationally.
Somewhere in between this remarkable and rewarding career, Spring became one of the earliest graduates of Upper Iowa's Coordinated Off-Campus Degree Program. To fulfill the face-to-face campus classroom requirement portion of the curriculum, Ed recalls spending a few cold weeks in Fayette in January 1975 before bringing his wife and four children to Fayette during the summer of 1975. He graduated with a degree in public administration, making possible much of the success he enjoyed later in his career.
Ed is currently retired and enjoys spending time on his patio cheering on the Washington Commanders. Ed is pictured above (right) during a recent visit with President Duffy at his home in Fredericksburg, Virginia.