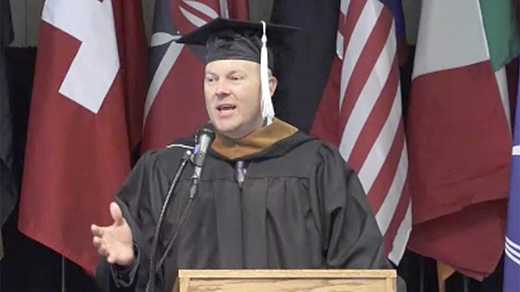 FAYETTE, Iowa (May 9, 2020) – "Extraordinary times call for extraordinary people," Upper Iowa University alumnus Neil Wilkinson '99 said as he addressed UIU's 2020 graduates during the University's first virtual commencement ceremonies on Saturday. "Time after time, I hear of the remarkable achievements and accounts from this class and how you have triumphed over adversity. It's time that you unleash your talents, ambition and curiosity upon this great world."
Wilkinson earned bachelor's degrees in finance and business management from UIU, and later received a Master of Science degree in financial services from The American College. A native of rural Westgate, he has been in the financial services industry since 2000, where he specializes in business planning, retirement planning, and estate planning strategies for Financial Decisions Group. A UIU Board of Trustee member, Wilkinson is also currently the chairman of Security Mutual Insurance and the Fortunaires Foundation. He and his wife, Heidi, reside in Fairbank, Iowa, with their two sons, Tate and Cael.
"I don't know what your futures hold, but I can tell you this…each of you are extraordinary people," Wilkinson said. "You have already achieved so much in unusual times. Celebrate this moment with pride with your family and friends."
Csomay Honors
Receiving the Csomay Honors Program medallions during the commencement exercises were Jacob Dale, a conservation management major from Hastings, Minnesota; Sierra Dirksen, an all social science major from Plainfield, Iowa; Molly Doran, a double major in accounting and financial management from Wheaton, Illinois; Clayton Lieb, a double major in accounting and financial management from Pearl City, Illinois; Mac Spotts, an agricultural business major from Nora Springs, Iowa; and Julia Szepieniec, a biology major from Eau Claire, Wisconsin.
Before her death, Barbara (Rankin) Csomay, class of 1946, established UIU's Csomay Honors Program. To be accepted into the Honors Program, students must have at least a 26 ACT score and at least a 3.5 high school grade point average. Students admitted to the Honors Program in any given year take the same courses as their fellow honors students. Each course generally is interdisciplinary and team taught, with active, participatory learning. All honors courses require extensive, integrated, advanced writing skills. Seniors complete both an honors project and a thesis in their area of interest. Extracurricular experiences–such as service learning, attending professional conferences and other special events–are an integral part of the program.
"On behalf of our University community, I want to thank everyone for joining us today," UIU President William R. Duffy said. "I would also like to thank members of the UIU Board of Trustees, family members, friends, loved ones, and of course, our graduates who are all watching right now and beaming with pride for achieving this outstanding accomplishment. I sincerely wish we could be celebrating together today. And while that is not possible, we have already extended an invitation for all of this year's graduates to join us at the May 2021 commencement ceremony so you will all have the opportunity to experience Commencement and celebrate your achievements right here in Fayette."
In addition to Wilkinson and Duffy, Board of Trustees chairman Dennis Murdock and vice president of External Affairs Andrew Wenthe addressed the online audience. As the ceremony was conducted virtually, the honorees names were read and submitted photos of graduates were shown on screen. In lieu of the traditional recessional, the virtual commencement concluded with a compilation of congratulatory messages from UIU faculty, coaches, advisors and staff.
In 2020, 1,275 students completed their associate, bachelor's or master's degree requirements at UIU. Of those, 203 graduated from Fayette Campus, 793 completed their degree at one of UIU's 21 locations throughout the United States, 245 graduated through online or self-paced study programs, and 34 were from the University's international center in Hong Kong. UIU is one of the most diverse universities in Iowa; in all, the graduates represented 42 states and 10 countries
UIU's 163rd in-person commencement ceremony at Fayette Campus was transitioned to the virtual format on March 19 due to COVID-19 and in the interest of the health, safety and welfare of students, visitors and employees upon consult with local and state public health officials.
Each virtual ceremony is available to view on UIU's YouTube channel at www.youtube.com/user/UpperIowaUniversity.