Foster Cass '41
Lifelong Friend and Supporter of UIU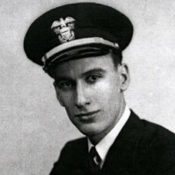 Foster Cass (Class of 1941) was born on February 6, 1919. He graduated from Upper Iowa University (UIU) in 1941 with a degree in math and business administration and a minor in history. Foster's family lived across the street from UIU where he and his brothers and sister attended college. During college, Foster joined the Pi Rho Zeta national honorary fraternity, sang in the choir, wrote poetry, played football under Doc Dorman, and worked on campus to pay for books and tuition. He met his wife, Maxine Marion Duff, another UIU student, in the library.
World War II began in Europe while Foster was attending UIU. He knew he wanted to earn his degree before the Army drafted him. Foster was one of ten students to graduate from the pilot's training course at UIU in June 1941. As soon as he received his degree, Foster enlisted in the Navy where he became a commissioned officer, primarily serving as watch officer and communications officer on ships, including his time as a "plank owner," a member of the first crew of the USS Fayette.
Foster also had the honor to receive the telegram and announce the end of the war to his shipmates on the Ormsby. During his time on ships at sea, he traveled about 80,000 nautical miles. Foster has continued to support Upper Iowa University. Notably, he has sponsored the Foster Cass Archives Walk which highlights the history of the campus.
In addition, he established the Foster Cass Foundation Student Scholarship in honor of his parents, Rev. Frank W. Cass and Carrie Jackley Cass, and family members who are UIU alumni: Edward J. Cass '38, Marjorie Swales Cass '39 and Betty Cass Hersey '43. The Cass family was the University's neighbor for many years, and there is a plaque commemorating the location on Union Street.