Mission 
Graduates of the UIU Honors Program have a broad interconnected and ever evolving view of the world. They are adaptable, self-motivated individuals who constantly challenge their assumptions about the world and their role in it. They have developed the capability to be innovators and leaders in a dynamic global community.
About the Csomay Honors Program
Before her death, Barbara (Rankin) Csomay, class of 1946, established UIU's Csomay Honors Program, creating an exciting and challenging academic experience for exceptional students.  Students who have at least a 26 ACT score and at least a 3.5 high school grade point average are invited to apply to the program.  Students who don't quite meet the 26 ACT score and 3.5 high school grade point average are welcome to apply if they believe they can make a strong case for consideration.
Exceptional transfer students who are interested in the Csomay Honors Program should contact Dr. Matt Foy, Csomay Honors Program Chair, for application requirements and details.
Students admitted to the Csomay Honors Program in any given year take the same courses as their fellow Honors students during the first two years of their undergraduate years. Each course is interdisciplinary, with active, participatory learning. All Honors courses require extensive, integrated, advanced writing skills. The program begins with an Honors Freshman Seminar, followed by Honors courses in Arts and Humanities, Behavioral Sciences, and Natural Sciences. Seniors complete an Honors project and a thesis in their area of interest. Students that successfully complete the Honors Program will graduate with University Honors. Extra-curricular experiences, such as service learning, attending professional conferences, and other special events, are an integral part of the program.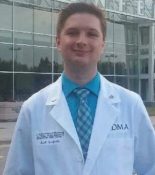 Brett Cornforth, '18
Biology with Pre-Professional/Health Sciences emphasis, Chemistry minor, Csomay Honors Program Class of 2018
Medical Student (M.D.) at The University of North Dakota School of Medicine and Health Sciences
I truly believe that Upper Iowa University put me on a path to success and help me reach my goal of going to medical school. When I was looking at schools, I knew that I wanted to go somewhere where I wouldn't just be a number in a classroom. I believe that this is one of the very best qualities at UIU. The professors make a distinct effort to know every one of their students, most of them knowing every student by name within the first class period or two. Getting such 1-on-1 attention from professors means that when the time comes to get letters of recommendation or references for graduate school or for job applications, you could ask just about any of your professors and they will be able to write you great letters. I definitely took advantage of this when applying to medical school and am sure that the letters I received from faculty boosted my application.