Asian American and Pacific Islander Heritage Celebration
Celebrating Asian Heritage at Upper Iowa University
In the United States May is designated as Asian American Pacific Islander (AAPI) Month. However, to accommodate for the academic year, Upper Iowa will begin celebrating the culture, traditions and long history of contributions and achievements of Asian Americans and Pacific Islanders in the United States beginning mid-April into May.
Scheduled Events (All times CST)
All Month - Asian American and Pacific Islander Spotlights in the Student Center
24 million people in the United States identify as Asian with 1.6 million identifying as Native Hawaiian, Pacific Islander or a combination. These diverse communities have shattered barriers, transformed our cultural landscape, and enriched this country for generations, from STEM and human rights to art and cuisine. Visit the Student Center to read about some of these influential and inspiring individuals.
April 4th 12:00pm - 1:00 pm Student Center Commons
Come to the Student Center over the lunch hour to get your name (loved one's name or a word that is important to you) written in Chinese Calligraphy. "In China, from a very early period, calligraphy was considered not just a form of decorative art; rather, it was viewed as the supreme visual art form, was more valued than painting and sculpture, and ranked alongside poetry as a means of self-expression and cultivation." (Chinese Calligraphy | Asia Society)
Ziyuan Li (goes by Li), UIU's Senior International Admissions Counselor, is the artist for this event.
April 12th 12:10pm CST via Zoom – Lunch & Learn: The Nostolgia of Food
During this Lunch & Learn Dr. Shilpashri Karbhari, Assistant Professor of Criminal Justice at UIU, will share her research on the growing population of Asians in Iowa and the importance of food to stay connected to one's culture and family. Panelists will share their experience with food and how it connects them to family and memories. They will also share the complexities of accessing diverse foods in NE Iowa and how this can at times magnify the feeling of homesickness.
Panelists:
Ziyuan Li (better known as, Li), is originally from China, and has been living in the US for over a decade. Li is an alum of UU and is the Assistant Director of International Admissions. He loves to learn about different cultures, taste different food, and share his culture with others. Li's favorite quote is "Coming together is a beginning, staying together is progress, and working together is success. " – Henry Ford
Ellya Mohd Shaferi, (better known as "Yaya") is from Malaysia and has been living in the US for two years. She is the Graduate Assistant for Student Life (Student Accessibility Services & Student Activities) and will be graduating this May with her MBA. Yaya loves her Malaysian food so very much and is excited to share one of her favorite recipes during this month's international coffee hour!
Topic: Lunch & Learn: The Nostalgia of Food
Time: Apr 12, 2023 12:10 PM Central Time (US and Canada)
Join Zoom Meeting
https://uiu.zoom.us/j/84951419659
Meeting ID: 849 5141 9659
One tap mobile
+16469313860,,84951419659# US
+13017158592,,84951419659# US (Washington DC)
Dial by your location
+1 646 931 3860 US
+1 301 715 8592 US (Washington DC)
+1 305 224 1968 US
+1 309 205 3325 US
+1 312 626 6799 US (Chicago)
+1 646 558 8656 US (New York)
+1 386 347 5053 US
+1 507 473 4847 US
+1 564 217 2000 US
+1 669 444 9171 US
+1 669 900 6833 US (San Jose)
+1 689 278 1000 US
+1 719 359 4580 US
+1 253 205 0468 US
+1 253 215 8782 US (Tacoma)
+1 346 248 7799 US (Houston)
+1 360 209 5623 US
Meeting ID: 849 5141 9659
Find your local number: https://uiu.zoom.us/u/kbHxpGplVt
April 20th 3:00pm - 4:00pm International Coffee Hour (Featuring Malaysia) in the Student Center
This recipe was shared by UIU's very own Ellya (Yaya) Mohd-Sheferi. Yaya is graduating this May with her MBA. Over the last two years she has been a Graduate Assistant for Student Life where she has been a tremendous help with Accessibility Services and Student Engagement.
Banana Fritters: Pisang Goreng is a well-known street snack in Southeast Asia that consists of bananas coated with batter and deep-fried until crispy, while the banana remains soft and sweet. Malaysians have been enjoying Pisang Goreng as a tea-time snack for generations. When visiting home, one of Yaya's favorite sights is the stalls selling Pisang Goreng, which are easily identifiable by the large bunches of bananas displayed on counters or hanging from the roof, and the large woks filled with bubbling golden banana fritters. For generations, this recipe has been a treasured part of her family's heritage, handed down from her great-grandmother who learned it from her own mother. Yaya shares that they have a tradition of enjoying Pisang Goreng around 3pm, especially during rainy seasons, while gathering with loved ones to share stories and connect. Yaya added that "As a homage to this cultural tradition and a perfect complement to a cup of coffee or The Tarik, I believe sharing this recipe during International Coffee Hour is a fitting way to connect with my Peacock family and celebrate my love for traditional snacks and a piece of my heritage."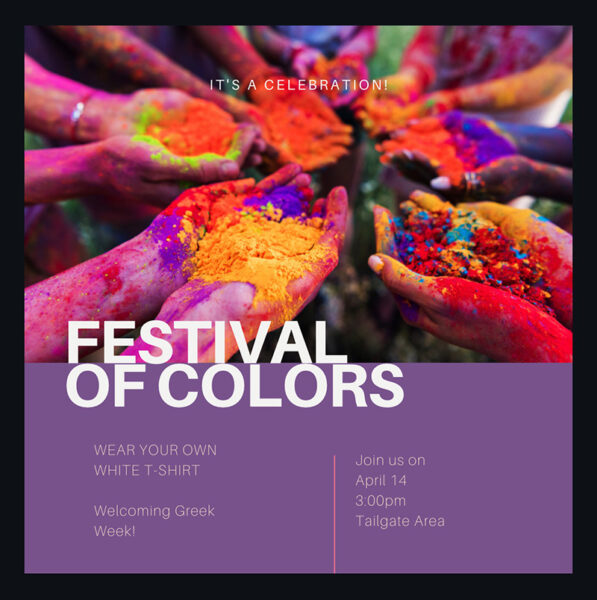 Come outside and get showered in a rainbow of colored powders symbolizing energy, life, and joy!
Holi is a Hindu spring festival, which originated in the subcontinent of India and is celebrated across the world. Often called the "Festival of Colors," and the "Festival of Sharing and Love," there are several legends about the origin of why Holi is celebrated. The timing of Holi, is synchronized with the moon, which means that the actual dates vary from year to year. This year Holi was observed on March 8th. Learn more about Hindus and Hinduism – Hindu American Foundation.
Date and Time are TBD. Please return for more information.
TED Talks: I Am Not Your Asian Stereotype a Ted Talk by 18- year old Canwen Xu
Bad driver. Math wizard. Model minority. In this hilarious and insightful talk, eighteen-year-old Canwen Xu shares her Asian-American story of breaking stereotypes, reaffirming stereotypes, and driving competently on her way to buy rice. Canwen Xu's slogan for life is "Canwen can win." Born in Nanjing, China, she moved to the United States when she was two years old, and since then has lived in some of the whitest states in the country, including North Dakota, South Dakota and Idaho. A senior at Timberline High School, Canwen is passionate about politics, and is the national membership director and Idaho state director for the Young Democrats High School Caucus. Also a programmer, she started an all-girls computer science workshop called Code For Fun and received National Runner-Up in the 2014 NCWIT Aspirations in Computing competition.
SPOTLIGHT - International Student Association (ISA)
Students from different nations and cultural background come together to create integration among international students of all races and the university community, as well as to assist the students in the transition into American culture.
By organizing this association, we hope to fill gaps between all international students, no matter the country of origin. As an organization we focus on the educational, cultural, and social aspects of university life in order to serve as a connection between International and American Students.
ISA strives to promote and improve international students' ability to adjust to American life and also to establish an advanced communication channel between the countries.
Interested in joining ISA? Contact Lisa Cameron at [email protected]
Asian American and Pacific Islander Support Resources
Asian Americans Advancing Justice (tool for reporting hate incidents)
Stop AAPI Hate (tool for reporting hate incidents)
South Asian Americans Leading Together (SAALT), which focuses on public policy analysis, advocacy and community building.
The National Federation for Filipino American Associations (NaFFAA), which develops young leaders, urges political participation and supports small businesses.
The National Queer Asian Pacific Islander Alliance (NQAPIA), which promotes visibility and provides education and tools to tackle homophobia and racism.
The Sikh American Legal Defense & Education Fund (SALDEF), a media and educational organization that promotes civic and political participation.
Empowered Pacific Islander Communities (EPIC), which seeks to empower Native Hawaiian and Pacific Islander (NHPI) communities through advocacy and research.
The National Asian American Pacific Islander Mental Health Association, which helps provide affordable care, translated resources and cultural competency for professionals.
Send Chinatown Love, which supports restaurants, many of which are immigrant-run and cash-only and so were rejected for government aid.
Detox Local – An extensive list of mental health and substance use resources specifically for the AAPI community.