Report an Incident, Complaint or Crime
Reporting Suspicious Behavior
Students, faculty, staff and visitors can help protect our community by learning to recognize and report suspicious activity. Prompt and detailed reporting can help prevent crimes. Suspicious behavior or activity can be any action that is out of place and does not fit into the usual day-to-day activity of our campus community. If you witness behavior that concerns you, trust your instincts and call 911 or Fayette Police at 563-425-3500. Below are some tips on reporting suspicious behavior.
Don't hesitate. Even if you are unsure as to what is going on, the best thing to do is to let officers investigate. You may help prevent violence or theft. You shouldn't worry about using up an officer's time. The additional information will give police important data to identify trends and make decisions about when and where to deploy patrols. It's important to remember, however, that it is a person's behavior, not their race, religion or national origin, that may be suspicious. Please note that FPD Chief Ben Davis serves on the UIU Behavioral Intervention Team (BIT) and if the concerning behavior involves a student the BIT will be made aware.
Suspicious activities or behaviors may include, but are not limited to:
Wandering around campus areas attempting to open multiple doors
Seeming nervous and looking over their shoulders
Entering restricted areas when not authorized or following immediately behind others into card-access areas while the door is open
Claiming to represent a utility company, but not wearing a uniform, does not produce identification upon request or does not have a company logo vehicle
Carrying property at an unusual hour or location, especially if they are attempting to hide the item
Driving a vehicle slowly and aimlessly around campus
Sitting in a vehicle for extended periods of time or conducting transactions from a vehicle
Abruptly changing behavior when seen
Dressing inappropriately for the weather or occasion (having a coat on when the temperature is warm, etc.)
Leaving packages, bags or other items behind
Exhibiting unusual mental or physical symptoms
Unusual noises like screaming, yelling, gunshots or glass breaking
Individuals in a heated argument, yelling or cursing at each other
If you witness concerning or suspicious behavior:
Call 911 or contact FPD is 563-425-3500 with the following information:
Your name and location
What you see (behavior, activity noticed as suspicious)
Description of person(s) involved (height, weight, sex, complexion, approximate age, clothing, hair/facial hair, etc.)
Location of person(s) involved (direction of travel)
What to do: When making a report, it's important to stay calm and speak clearly to help dispatchers and officers effectively evaluate and respond to the situation. Keep a safe distance from the person until law enforcement arrives. Keep an eye on the person only if it is safe to do so. If the person attempts to leave the scene in a vehicle, bicycle, etc., do not attempt to detain them—but try to make note of the vehicle's make and model, license number, color and any outstanding characteristics.
Submitting an Anonymous Report
The Lighthouse reporting platform does not replace our normal grievance process.  We encourage individuals to use this resource when anonymity is necessary.
How to Submit an Anonymous Report
You can make an anonymous report of a complaint, incident or concern using any of the following options:
Website: www.lighthouse-services.com/uiu.
Toll-Free Telephone:

English speaking USA and Canada: 833-350-0022.
Spanish speaking USA and Canada: 800-216-1288.
Spanish speaking Mexico: 01-800-681-5340.
French speaking Canada: 855-725-0002.

E-mail: 

[email protected]

(you must include UIU's name with your report).
Fax: (215) 689-3885 (you must include UIU's name with your report).
Please Note
This reporting platform does not replace our normal grievance process.  We encourage individuals to use this resource when anonymity is necessary.
This is not an emergency service.  Please recognize this platform is for those instances where an immediate response is not necessary. In an emergency, call 911 (6-911 from a Fayette campus phone).
You are required to create a confidential pin number which will allow you to track your report.  This pin number will also provide the appropriate UIU program administrator the ability to reach out to you for additional information, if necessary, without disclosing your identity.
All reports received by Lighthouse are forwarded to a university designee for review. If a report is found to be in violation of a university policy, an investigation will be initiated. Please note that your identity will be protected to the fullest extent of the law. However, your identity may become known during the course of the investigation because of the information you provide.
Include, but are not limited to, the following:
FERPA Violations
Ethical Violations
Unsafe Working Conditions
Quality of Service
Sexual Harassment
Discrimination
Alcohol and Substance Abuse
Fraud
Conflict of Interest
Theft and Embezzlement
Violation of the Law
Violence
Stalking

Code of Student Responsibility
Assault
Misuse of University Property
Violation of University Policy
Improper Conduct
Bribery and Kickbacks
Threats
Conduct Violations
Theft
Vandalism and Sabotage
Internal Controls
Title IX
Falsification of Reports or Records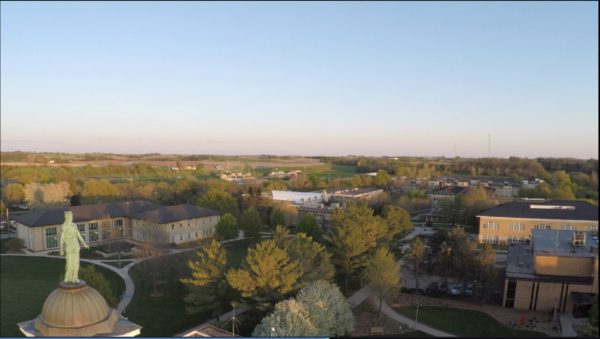 Crisis Services
Information about mental health crises, sexual assault and local area crisis resources.
More Campus Incident Reporting Strategies
Below are some other strategies for reporting an incident. However, remember trust your instincts and call 911 or Fayette Police at 563-425-3500. Prompt and detailed reporting to the police can help prevent crimes.
Students who are not satisfied with their efforts to resolve their complaint with UIU have the option to file a complaint online with the Higher Learning Commission (HLC) or the Iowa College Student Aid Commission (877-272-4456).
Fayette Campus Incident Reporting
This can be done immediately following the incident by calling the Fayette Police Department (563-425-3500), Behavioral Intervention Team (BIT) ([email protected]), Counseling Office (Confidential reporting contact [email protected]) or Assistant Dean of Students/Chief Conduct Officer (x5209). Remember, you can decide at a later date to report an incident that took place. Please note that the Fayette Police Chief also serves as a member of the BIT
The reasons for reporting to the University:
Protect yourself and others from future victimization;
Apprehend the assailant; and
Seek justice for the wrong that has been done to you.
If you choose to report the incident to the Fayette Police Department, an officer(s) will take a statement from you regarding what happened. They will ask you to describe the assailant(s) (if you do not know them), or identify them if you do. They may ask questions about the scene of the crime, any witnesses and what happened before and after the incident. You may have a support person with you during the interview.
If you are assaulted and at this time do not want to pursue action within the University system or the local police department, you may still want to consider making an anonymous report per the options at the top of this page. With your permission, the Dean of Students can file a report of the incident without revealing your identity.
The purpose of an anonymous report is to comply with your wish to keep the matter confidential, while taking steps to ensure future safety for yourself and others. With such information, the University can keep accurate records about the number of incidents involving students or employees; determine whether there is a pattern of assaults with regard to a particular location, method or assailant; and alert the campus community to potential danger.
Colleges and universities are now required to inform students and employees of where they can learn of individuals who have been convicted of sex crimes. If you are interested in information, you can visit the Fayette County Sheriff's Department on Highway 150 just south of West Union. You must appear in person and make the request in writing. There is also an online registry of those convicted of sex crimes; it contains those individuals labeled at risk to re-offend, not everyone convicted of a sex crime