Frequently Asked Questions
What is the move-in schedule and process for August 2020?
New students will begin moving in on August 27. Returning students will move in on August 29-30. This includes student-athletes, with the possible exception of men's soccer.
Student Life will be contacting all returning and new students with details about their specific move-in schedule.
In an effort to reduce the density of students and their families in the residence halls during move-in, we are providing a specific date/time to move-in for each student. The charts below show move-in times for all students. Students will need to know their room assignment/number that was emailed to them. If a student doesn't know their room number, they can contact Student Life at (563) 425-5215 or email: [email protected] to obtain this information.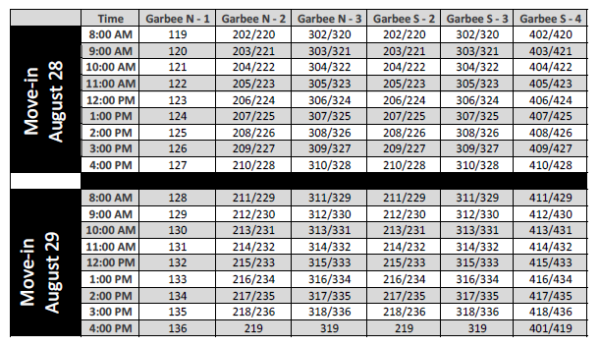 All students must adhere to their designated move-in date and time!
Each student is allowed to have two guests to assist with moving in. You are allotted one hour to move in, so please pack accordingly to this time limit. Guests can remain in the residence hall within the hour of check-in. These move-in times will afford students the ability to meet social distancing expectations and ensure we do not overload any particular community with additional residents or guests.
Students will receive one UIU-logo mask and are encouraged to also bring their own. Faculty, staff, students and visitors to campus are currently required to wear a mask or personal face covering when in group settings or when distancing is not possible, including during the moving in to the residence halls. Distancing of six feet is encouraged when possible.
If you have questions, please contact us at (563) 425-5215 or email: [email protected].
The student mailroom is located in the Student Center at Fayette Campus. Residents receive mailbox keys. Commuting students may request a mailbox assignment. Students can receive items at the following addresses (all mail is delivered to the mailroom):
For US postal mail, please send to:
Student Name
P.O. Box 1857
Fayette, IA 52142
For packages, please send to:
Student Name
605 Washington St.
Fayette, IA 52142
NOTE: Please do not use nicknames. 
Where can I buy food, go shopping, etc.?
Fayette has a Dollar General within walking distance of Fayette Campus. They offer a few basic dry goods, along with milk, eggs, cheese and other staples. West Union and Oelwein also have a variety of grocery stores and small shopping stores. Students are able to sign up in Student Life for weekend shuttle service to shopping malls. The mall trip schedule rotates between Waterloo and Dubuque.
Text books can be ordered online.
What if I have special dietary needs?
Our food service provider understands the dietary restrictions of students and hosts a variety of entrées and side dishes that should suite almost any dietary need. To see their menu, please click here. 
If you are seriously ill, please contact all of your instructors and see a doctor. Usually, if a student can provide a doctor's note, instructors are willing to work with the student. The Office of Student Life can set up appointments for students. Each student is required to purchase the student health insurance plan if they do not already have one. Sick students should not eat in the cafeteria.
COVID-19
Visit the COVID-19 (coronavirus) update page for important info.