Black History Month at UIU
Scheduled Events (all times CST)
Every Thursday between 12-1pm, members of BTQ will be selling Black History Month and Black Pride stickers in the Cove, located in the Student Center.
February 7th at 6:30pm, Student Center Commons: Student Diversity Union Meet & Greet
Enjoy some free mock-tails and meet the members of the Student Diversity Union (SDU). Come join in on the conversation! The SDU was organized this academic year. They've had fruitful meetings sharing life experience shedding light on inequity, discussing entrepreneurship, slam poetry and activism, to name a few. All are welcome to join this month's SDU meeting and learn more about the organization.
The Mission of the SDU is to provide the best quality of life for all of our students on campus regardless of race. The SDU works towards this through providing a safe space to share life experiences, hosting events celebrating different cultural backgrounds, raising awareness, community service, and allowing for a better understanding of cultures other than oneself. The SDU seeks to enrich Northeast Iowa with diverse backgrounds and inspire growth in awareness of the realities people of color face in America today.
Mock-tails available while they last!
February 9th at 12:10 PM CST: A Discussion on Race & Racism in the U.S., Student Center Ballroom A & via zoom
During this conversation, Assistant Professor of Sociology, Nickie Michaud Wild, will give a brief historical/social introduction of the topic of Racism and Lived Experience. Earnest Tucker and Tiffany Parker will focus on issues of race in the context of their lived experiences in school and their early career. This conversation will be accessible in-person and via zoom – see below for zoom link.
Nickie Michaud Wild, is an Assistant Professor of Sociology at UIU. Nickie began at UIU in 2019 and has taught at UW-Milwaukee, University at Albany, State University of New York (where she received her PhD), and Mount Holyoke College in Massachusetts. Nickie enjoys teaching Sociology because it allows us to discuss not only current social issues, but how and why they came to be how there are. She explains that UIU is a great environment for her, because it has much smaller class sizes than anywhere she's taught previously, and in-depth conversations can be had. Nickie shared, "I believe discussing race is important because the US is unique among any country in the world. It is almost entirely made up of people whose ancestors did not originate here. Yet we continue to have struggles based on our history of both immigration and the legacy of slavery. The only way to address these issues is to meet them head-on, however uncomfortable that may be. Racism affects everyone in some way, either directly or indirectly, in ways many people don't even see. For our country to be truly prosperous for everyone today, we must all be knowledgeable of our past and present, the good and the bad."
Tiffany Parker is an Enrollment Coordinator for UIU. She resides in Bettendorf, IA with her husband Aaron and their two children, Taryn and Tara. She is responsible for recruiting new students as well as advising them throughout their academic journey. Tiffany loves working at UIU because it provides her with "an opportunity to connect with students from all walks of life and support them during their time at UIU." Tiffany jumped on the opportunity to be a part of this discussion. She explains that, "It is important to discuss race because it plays a large role in our history and continues to impact and influence how we live. Race is the first thing we see when encountering another person, yet, we have been conditioned not to talk about it to avoid feelings of discomfort, defensiveness, and frustration. But it is healthy to discuss race as it allows us to hear and appreciate different points of view, and is an opportunity to educate one another and begin repairing the damage that has been done throughout the course of history."
Earnest Tucker (AKA Coach Tucker) is the Deffensive Back coach for the UIU football team.  Born and raised in Dayton, Ohio, he loves helping, molding, and challenging our young people to prepare them for this world. When asked why he wanted to discuss this topic, Coach Tucker explained that, "It is important for me to talk about this topic because racism still exists today, and people may be going through the same things I went through, so my story might give others strength to overcome whatever they are going through."
Join Zoom Meeting
https://uiu.zoom.us/j/86238068548
Meeting ID: 862 3806 8548
One tap mobile
+13092053325,,86238068548# US
+13126266799,,86238068548# US (Chicago)
Dial by your location
+1 309 205 3325 US
+1 312 626 6799 US (Chicago)
+1 646 558 8656 US (New York)
+1 646 931 3860 US
+1 301 715 8592 US (Washington DC)
+1 305 224 1968 US
+1 564 217 2000 US
+1 669 444 9171 US
+1 669 900 6833 US (San Jose)
+1 689 278 1000 US
+1 719 359 4580 US
+1 253 205 0468 US
+1 253 215 8782 US (Tacoma)
+1 346 248 7799 US (Houston)
+1 360 209 5623 US
+1 386 347 5053 US
+1 507 473 4847 US
Meeting ID: 862 3806 8548
Find your local number: https://uiu.zoom.us/u/kr1FMSMXq
February 15th at 6pm via FB Live: Alumni Speaker Series with Rebecca Francis '19 & '20
Rebecca Francis '19 & '22 
Business Administration & MPA Program – Online
Presentation: Purpose on Accident
Rebecca is a supporter and bold advocate for diversity, equity, and inclusion. As a practitioner for DEI efforts across business, government, non-profit, and education, she helps organizations assess barriers and prepare to integrate seamless DEI efforts into their business frameworks. Over her 9+ years of leadership, Rebecca has worked with local and corporate, educational, and non-profit brands, supporting the transformational efforts of companies at all stages. Her support brings a mixture of expertise, passion, vision, and creative style to make an organic connection for the ultimate takeaways.
Facing many obstacles as a young college student where she had to push through and find the next opportunity for success, Rebecca knows first hand that our mistakes are not always considered mistakes and that sometimes they happen on purpose. She will talk about how each of us can embrace our "mistakes" and turn them into accomplishments.
All are invited to join the session live through the University's Facebook page www.facebook.com/upperiowauniversity. After the event, you can access the recorded session on: https://uiu.edu/experience/career-development/alumni-speaker-series/
February 21st 8pm at Pete's Bar & Grill: Savon Bartley, Spoken Word Artist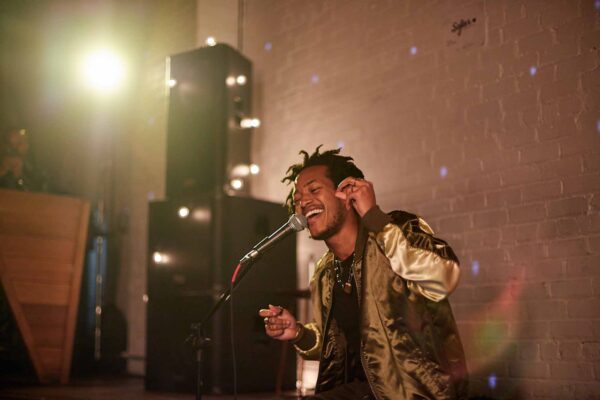 During this spoken word performance, poet, performer and playwright, Savon Bartley, explores the nuances of masculinity, social justice, identity, love and mental health through the lense of poetry, storytelling, and hip hop. Learn more about the work of Savon Bartley: https://www.bass-schuler.com/talent/savon-bartley/
There will be coffee and pastries FREE for UIU students.
Fayette & UIU History
Below we provide a brief review of early Fayette and Iowa Black history. In addition, to the right, in "Learn More", you can learn more about the first black woman to graduate UIU and the family origin of Fayette, Iowa's Watermelon Days.
1851:            Iowa is the 3rd state to allow interracial marriage.
1852:            Fayette County: An area known as 'the colored settlement' was established between Fayette and West Union.  Black and mulatto (mixed) families moved from Illinois to the new farming community north of Fayette.  They built their own school house, and several students continued their education at Upper Iowa University with some becoming excellent teachers.
1857:            Upper Iowa University opens January 7 as an interracial and co-educational institution.  Two years earlier the University of Iowa offered their first classes to both men as women, but it was not interracial .
1857:            Iowa's Constitution was ratified. After much debate it was decided that 'Negroes should have the right to provide testimony in court' and 'Negroes should have the right of suffrage (the right to vote)'
1861-1865    Civil War.  All Upper Iowa University male students volunteer to fight in Iowa Regiments for the Union Army.[1]
1879:            Upper Iowa University admits Susan Angeline Collins, UIU's first female African American student.  Others soon followed, and there was likely continuous enrollment of students of African American descent since 1879.
1969:            The Brotherhood was formed at Upper Iowa University 'to improve relationships between blacks and whites on campus.' By 1983 this purpose had changed to 'participate in worthy undertakings for the improvement of all ethnic and minority groups on campus and in the community.' Alpha Nu Omega fraternity grew out of the Brotherhood.
Click here to learn more about African Americans in Fayette and at Upper Iowa University up to the early 1900s (UIU Library Archive Site)
[1] Not all students actually fought.  One student dropped out when his young wife requested it, and others were not found to be physically fit.