Master of Science in Counseling (MSC)
Build Your Program
MSC Courses
See course descriptions for the classes you need for your Master of Science in Counseling degree.
Academic Calendar
Keep up with your academic program's registration deadlines, session dates, holiday breaks and exam schedules.
Careers with an MSC
Graduates may find employment in a variety of settings, including hospitals, substance abuse treatment centers, schools, colleges, universities, private practice, rehabilitation facilities, community counseling agencies, court systems, and crisis and disaster mental health services.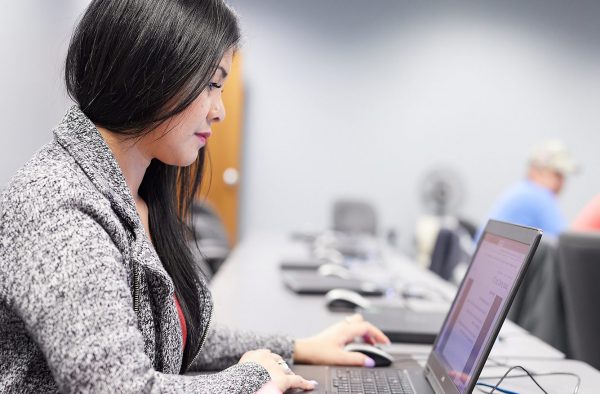 Convenient, Focused Scheduling
UIU Master of Science in Counseling students have the advantage of focusing on fewer classes at once with the Two-at-a-Time schedule. Plus, convenient evening or online courses ensure your education fits your unique lifestyle.
The Master of Science in Counseling program is offered through UIU's School of Arts and Sciences.
22
%
Projected growth in substance abuse, behavioral disorder, and mental health counselor jobs from 2018 to 2028
13
:

1
Student to faculty ratio means small class sizes and one-on-one time with instructors
$70,000
National average salary for someone with a master's in counseling (BLS)
Admissions
When you're ready to apply for your Master of Science in Counseling, we're ready to help you every step of the way.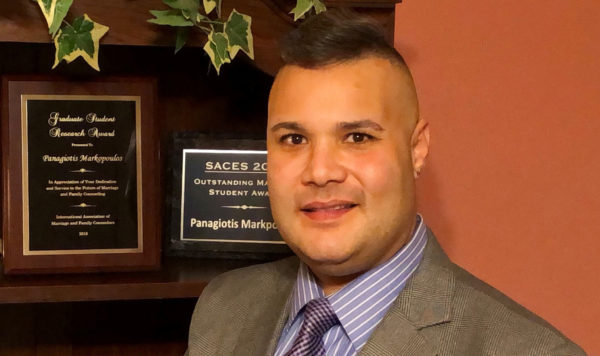 Faculty Spotlight
Panagiotis Markopoulos, Ph.D.
Director of Master of Science in Counseling Program, Lecturer of Counseling
Dr. Markopoulos has received numerous research awards as it pertains to his research using virtual reality in treatment for children who have been diagnosed with autism spectrum disorder (ASD). Dr. Markopoulos is an active presenter and a guest speaker in national and international counseling related conferences. Dr. Markopoulos was recently invited by Edinboro University, located in Pennsylvania, to present a webinar in which he addresses autism and career development, entitled: 'Career Development for Individuals Diagnosed with Autism Spectrum Disorder: What Counselors Need to Know.'
Frequently Asked Questions
Find the answers to students' most frequently asked questions about UIU's Master of Science in Counseling. If you don't see the answer you need, contact us for help.
What can I do with a Master of Science in Counseling (MSC)?
Graduates of the master's degree program are usually employed as professional counselors in a variety of settings, including but not limited to hospitals, substance abuse treatment centers, schools, colleges, universities, private practice, rehabilitation facilities, community counseling agencies, court systems, crisis and disaster mental health services and other settings in which counseling or other mental health services are offered.
Is there a clinical internship?
Yes. Field experiences include a 100-hour practicum and 600-hour (minimum) internship in which students practice the skills they have developed under the supervision of faculty.
Tuition is $480/credit hour for fall and spring (16-week semester) and $460/credit hour for summer (14-week semester).
What are the requirements for admission?
Prospective master's degree students must meet the admission requirements established by Upper Iowa University. To be considered for admission to the program, an applicant must have an undergraduate grade-point average of at least 2.50. Presentation of the minimum undergraduate grade-point average does not guarantee admission. Admission decisions are based on all criteria considered in relationship to the need of the program and number of students who can be reasonably accommodated. Applicants who present undergraduate grade-point averages that are lower than those listed above may be considered for admission, pending the evaluation of other indicators.
How do I apply to become a student in the MSC program?
Please follow the instructions below to successfully complete your application.
Complete UIU's online application.
Write a personal statement that references the guidelines presented in the next question of this FAQ, and attach to the online application.
Send official transcripts from ALL previously attended institutions.
Provide names and contact information for three professional references who can attest to your personal and professional qualities and your readiness for graduate study. These individuals will be contacted directly by the UIU Registrar's Office and asked to independently upload their letters of recommendation on your behalf. Ideal references will speak to your academic ability and/or potential for graduate study, experience in the helping professions (volunteer/employment), character, and experience with individuals whose background or culture differed from yours. References may include employers or internship/volunteer supervisors, faculty, mentors or community members (e.g., religious or community leaders). Please do not include family members, personal therapists/counselors, those you have supervised, or clients.
Only those applications that are complete and include all the required documentation will be considered for review. If the applicant does not complete the application process by the deadline, the applicant can contact the Registrar's Office and indicate if they wish to be considered for the next application deadline.
What are the guidelines for creating the Personal Statement that is required to apply to the MSC program?
The personal statement is a thoughtful essay (1-2 pages, 12-pt font, double-spaced) that addresses the following elements:
A summary of your educational and work experiences and how they have contributed to your readiness for counselor education.
The reason you are pursuing a master's degree in counseling, and what prompted you to do so at this point in your life.
The experiences that shaped your beliefs about diversity, multiculturalism, social justice, and people's capacity for change.
Your professional goals and how a UIU Master of Science in Counseling degree can help you accomplish your professional goals.
What happens after I submit my application?
Once an application and the required materials (i.e., personal statement, official transcripts, and three letters of recommendation) are received and reviewed by UIU Counseling faculty, applicants selected to proceed in the application process will receive information regarding dates and times for group screening interviews. These screening interviews will be conducted online through a videoconferencing platform in small groups and last approximately 45-60 minutes.
At the conclusion of the screen interview process, UIU Counseling faculty will conduct a final review of applications/supporting materials and select applicants for admission. Applicants will be notified by email of their admissions status within 1-2 weeks.
Can I transfer credit to UIU toward my MSC degree?
A student, with approval from the major professor and the Counseling program, may transfer 12 semester credits of graduate credit in which grades of B or better were earned that were taken in residence at another university. Clinical courses cannot be transferred. These transfer hours may be included in the program of study. Transfer credits, as well as all credits earned toward the degree, must have been taken within the eight years prior to graduation. Credit for individual courses taken more than eight years before the completion of the degree may be validated by the student's major professor upon demonstration that the student has current knowledge covered in the course.
Can I enroll as a non-degree seeking student?
Individuals may be admitted into UIU's online Counseling program as a non-degree graduate student. Non-degree seeking students can take these four (4) foundation courses:
Theories of Counseling
Lifespan Growth and Development
Research & Program Evaluation
Ethical, Legal & Professional Issues in Counseling
Enrollment and/or completion of these four (4) counseling courses will not ensure admittance to the Counseling graduate program. Other courses in the Counseling graduate program may not be taken until the applicant is admitted as a UIU Master of Science in Counseling student.