Explore Your Program
Graphic Design Courses
View all Graphic Design courses.
Academic Calendar
Keep up with your academic program's registration deadlines, session dates, holiday breaks and exam schedules.
Careers in Graphic Design
A degree prepares you for many careers, such as art director, creative director, film & video editor, graphic designer, industrial/product designer, marketing manager, multimedia artist/animator, photographer, web designer.
Courses
Graphic Design Courses:
GRAF 112 Introduction to Graphic Design
GRAF 218 Digital Photography
GRAF 280 Interaction Design
GRAF 319 Digital Video and Editing
GRAF 332 Digital Imaging
GRAF 333 Digital Illustration
GRAF 334 History of Graphic Design
GRAF 335 Publication Design
GRAF 355 Typography
GRAF 380 Advertising Design
GRAF 403 Internship
GRAF 442 Digital Animation
GRAF 480 Senior Thesis and Portfolio
Majoring in Graphic Design
About UIU's Graphic Design Degree Program
What is a Graphic Design Degree?
UIU's graphic design degree is a portfolio-driven program that helps you find unique responses to design problems and create original work in every course. The curriculum pairs topics like digital imaging and video editing with foundational courses in marketing and advertising to give you a well-rounded education. When you graduate, you'll have a robust portfolio that can help you stand out in the job market.
A 24-credit minor is also available in graphic design. This minor is a great fit for those majoring in related fields like marketing or communication studies.
Getting Your Graphic Design Degree Online
Get the same high-quality graphic design education that you would get from a UIU classroom — at home or in your office. Upper Iowa University offers a degree in graphic design online, as well as in-person and distance learning options to meet your educational needs.
How to Apply
To apply, visit our Online Application portal to create an account and start your application. Still unsure if the graphic design degree at Upper Iowa University is right for you? Reach out to our admissions office to ask questions or request additional information. They'll be happy to assist you.
Career Opportunities & Benefits
Careers in Graphic Design
With a Bachelor's Degree in Graphic Design from UIU, you'll be prepared to pursue both entry-level positions and more senior titles. You may find work as an in-house graphic designer or as part of an agency. You may also decide to work for yourself as a freelance designer.
A degree in graphic design can prepare you for jobs like:
Art Director
Creative Director
Film & Video Editor
Graphic Designer
Industrial/Product Designer
Marketing Manager
Special Effects Artist/Animator
Photographer
Web Designer
Need a little help getting started on your job search? The UIU Office of Career Development is a great resource that provides complimentary services to help you find your dream job.
Graphic Design Salary Information
Your salary as a graphic designer will vary depending on your employer, your position, your location and your years of experience. However, according to the Bureau of Labor Statistics, some average salaries for graphic design careers include:
Benefits of a Graphic Design Degree
A degree in graphic design gives you options. A lot of options, in fact. That's because graphic designers aren't only employed by one specific industry. You have the freedom to work with clients in fields ranging from medicine to business to education and beyond. You can work for yourself, or as part of an agency or organization. And every single day you get to create something new. With a graphic design degree, you can find success in a creative, fulfilling career.
You can also use your Bachelor's Degree in Graphic Design as a starting point for continuing your education. Some UIU graduates go on to earn their Master of Business Administration (MBA).
Degree Requirements, Skills & Certifications
Graphic Design Courses
UIU's bachelor's degree in graphic design focuses on the diverse skills you'll need to succeed as a graphic designer. This means that, in addition to learning to use the latest tools and programs, you will also graduate with an understanding of key marketing principles that support the work you do.
Throughout the program, you'll take courses in topics like:
Advertising Design
Branding
Consumer Behavior
Digital Photography and Editing
Digital Video and Editing
Social Media Marketing
Typography
Web Publishing and Social Media
Graphic Design Skills
To succeed as a graphic designer, you need more than just artistic skills. You need to be able to stay on top of current trends, have experience with the latest technology and utilize soft skills while working with clients or members of your team. You must be able to give and receive feedback, justify design choices and, of course, always deliver original work that meets your client's needs.
Some of the top skills graphic designers need include:
Attention to Detail
Communication
Creativity
Decision Making
Design Software Experience
Time Management
Best Minors for Graphic Design Majors
You can customize your degree to better match your goals and interests by adding a minor. Some minors typically paired with a graphic design degree include:
Art
Communication Studies
Creative Writing
Marketing
Your Bachelor's Degree in Graphic Design can also be your first step towards a graduate degree. UIU offers a Master of Business Administration (MBA) to help you advance your career even further.
Frequently Asked Questions (FAQs)
How long does it take to get a Graphic Design degree?
At UIU, you can typically complete your Bachelor's Degree in Graphic Design in about four years.
UIU operates on a unique course schedule that breaks the academic year into four eight-week sessions and one accelerated six-week session. This gives you more time to focus on your courses and balance your academic life with your other commitments. Learn more about UIU's course schedule.
Is a Graphic Design degree worth it?
A degree in graphic design will help you find success in an evolving industry. According to the Bureau of Labor Statistics, the job outlook for graphic designers is expected to grow by 3% from 2020-20303. Related jobs, like film and video editor and special effects artist, are increasing at a greater rate with 29%[2] and 16%[6] expected growth, respectively.
Can I earn a degree in Graphic Design online?
Yes! UIU offers a Graphic Design online program. Learn more about UIU's online programs.
UIU Locations for Bachelor's Degree in Graphic Design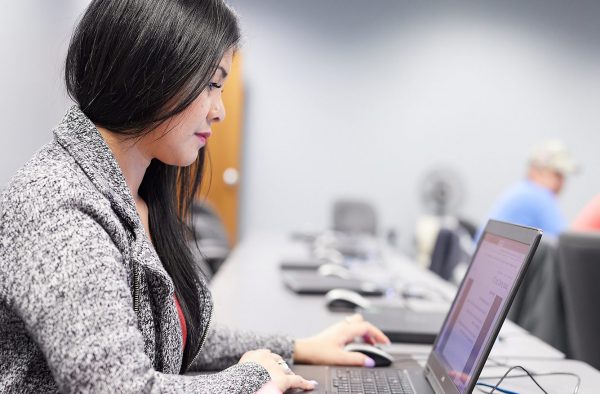 Convenient, Focused Scheduling
UIU Graphic Design students have the advantage of focusing on fewer classes at once with the Two-at-a-Time schedule. Plus, convenient evening or online courses ensure your education fits your unique lifestyle.
3
%
Projected growth in graphic designer jobs from 2018 to 2028
12
:

1
Student to faculty ratio means small class sizes and one-on-one time with instructors
96
%
UIU graduates employed or continuing their education within 12 months of graduation
Admissions
When you're ready to apply for your bachelor's degree in Graphic Design, we're ready to help you every step of the way.
Go Further with an MBA
Earned your undergraduate degree in Graphic Design? Consider UIU's MBA program to advance your career even further.