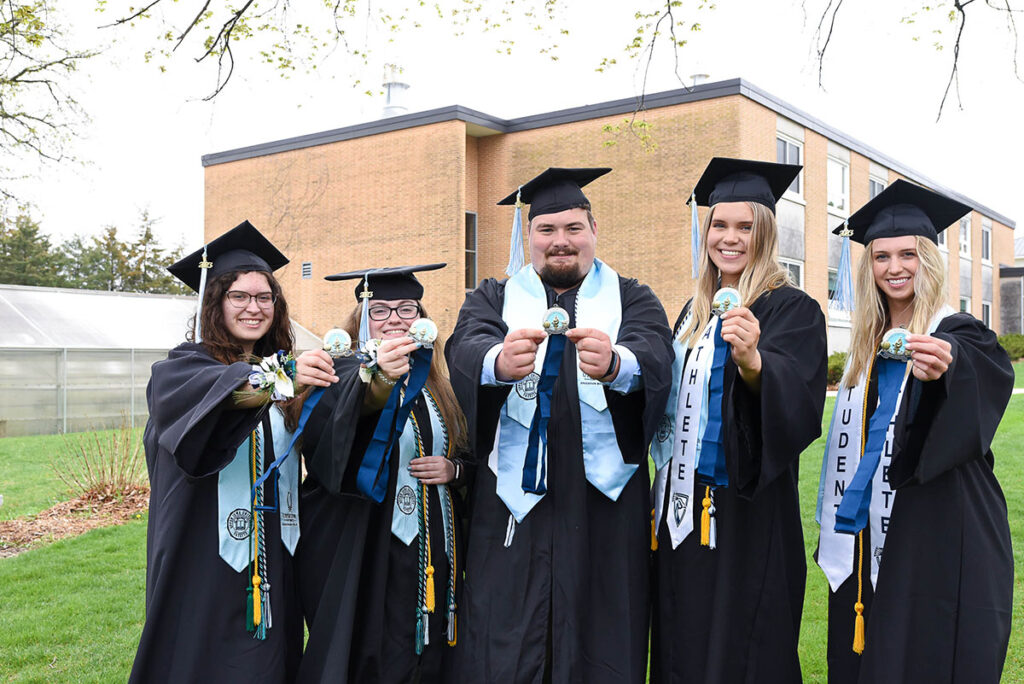 During the 2023 May UIU Commencement ceremony, five graduates from the Csomay Honors Program were recognized. The honorees – pictured above (l-r), Isabelle Bergsbaken, Oconto, WI; Deanna Hopkins, Waco, TX; Carter Harris, Saint Cloud, FL; Sarah Johnson, Elk River, MN; and Callista Rochon-Baker, Oshkosh, WI – each were recognized for their representation of the University through community involvement, leadership, engagement and student success.
The Csomay Honors Program includes challenging coursework and programs which are intended to prepare students for graduate school and careers. Bergsbaken, a history major and member of the pre-professional club, science and environmental club, and a writing consultant, agreed that joining the program helped her "extend my knowledge further and help me achieve my goals." Bergsbaken had intended on continuing to graduate school and has been accepted into UNI's public history master's program and plans to start classes in the fall.
Critical and creative thinking skills are what Carter Harris and Sarah Johnson indicated they gained from the program. Harris, an all-science major for secondary education, was not only a member of the Noyce Grant Scholar program, but was a member of the football team, president of student government, Beta Delta Pi fraternity, and a member the education club. Harris commented "I felt that it would be a great opportunity to connect with new people outside of my sport. I feel like it provided me with a way to think at a higher level. It challenged my creative thinking skills that were not tested in other classes."
Johnson said. "I joined the Honors Program to push myself as a student and further develop my critical thinking skills to use within my career after college. My time in the Honors Program has helped me build relationships with different peers and mentors and expand my understanding of many complex topics. This program has given me opportunities to grow my knowledge and leave Upper Iowa with the confidence to be successful in my professional career." A business administration major with a minor in communication studies, she was also on the volleyball team, best buddies, SAAC, and FCA.
For Deanna Hopkins and Callista Rochon-Baker, the Honors Program contributed to their personal growth and understanding of society. Hopkins reflected, "Through my participation in the program, I was able to foster a greater understanding of cultural and social perspectives within society, and how this has impacted our current environment." A biology major with a pre-professional emphasis and a chemistry minor who was a tutor, Hopkins was also a student ambassador, president of the pre-professional club, and member of the science and environment club.
Rochon-Baker felt the "program has really shaped me into being a more well-rounded person. I did not realize how close minded I was until I participated in the honors cultural class. I really enjoyed growing as a person and discovering myself. Also, the program has pushed me to ask the bigger questions in life and taught me to think more outside of the box." A psychology major with a communications minor, Rochon-Baker was team captain of the women's basketball team, president of the psychology club, a psychology department lab assistant, and a member of SAAC.
Before her death, Barbara (Rankin) Csomay '46 established UIU's Csomay Honors Program. To be accepted into the Honors Program, students must have at least a 26 ACT score and at least a 3.5 high school grade point average. Students admitted to the Honors Program in any given year take the same courses as their fellow honors students. Each course is generally interdisciplinary and team taught, with active, participatory learning. All honors courses require extensive, integrated, advanced writing skills. Seniors complete both an honors project and a thesis in their area of interest. Extracurricular experiences – such as service learning, attending professional conferences and other special events – are an integral part of the program.
For additional information about the Csomay Honors Program and UIU, visit uiu.edu/honorsprogram.