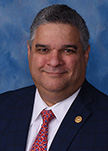 FAYETTE, Iowa (April 16, 2019) – Upper Iowa University has announced that Daniel J. Alfonso was recently elected to the UIU Board of Trustees. Alfonso has served as vice president of facilities management and public safety at Nova Southeastern University (NSU) in Davie, Florida, since December 2017. At NSU, Alfonso oversees a team responsible for maintaining a real estate asset portfolio of more than 4.5 million square feet of air-conditioned space. NSU has nine regional campuses, including one in San Juan, Puerto Rico. Alfonso also oversees construction and renovation projects, and is responsible for public safety of all campuses.
The new UIU Board of Trustee previously served a four-year term as city manager at the City of Miami, Florida. He began working for the city as director of management and budget in 2011 after employed for 17 years at Miami-Dade County. During his tenure with the county, Alfonso worked in various operational and administrative positions including revenue collector at Miami Dade Transit, budget coordinator at the Office of Management and Budget and assistant director with the General Services Administration Department.
While working full time at Miami Dade County, Alfonso earned a Master of Science in Finance degree at Florida International University as well as a Bachelor of Business Administration degree with majors in management, and international business. He also earned an associate degree in accounting at Miami Dade College.
Alfonso served in the United States Army from 1986 to 1991. He earned the rank of Sergeant and in 1990 participated in operations Desert Shield and Desert Storm as a Cavalry Scout assigned to the 24th Infantry Division. He has been married to his wife, Claudia, since 1986. The couple has a son and a daughter.
Additional members of the UIU Board of Trustees are Dennis Murdock, chairman; Steve Harms, vice chair; John R. Falb, secretary; Richard Andres, treasurer; members Nancy Betz, Mary Cheddie, Peter A. Clemens, William R. Cook, Josem Diaz, Betty Davis Firth, Dr. Margaret B. Lawson, Scott R. Lebin, Michele Matt, Bernard Pattison, Mike Prochaska, Neil Wilkinson, Roger Mangan and Lowell Tiedt.