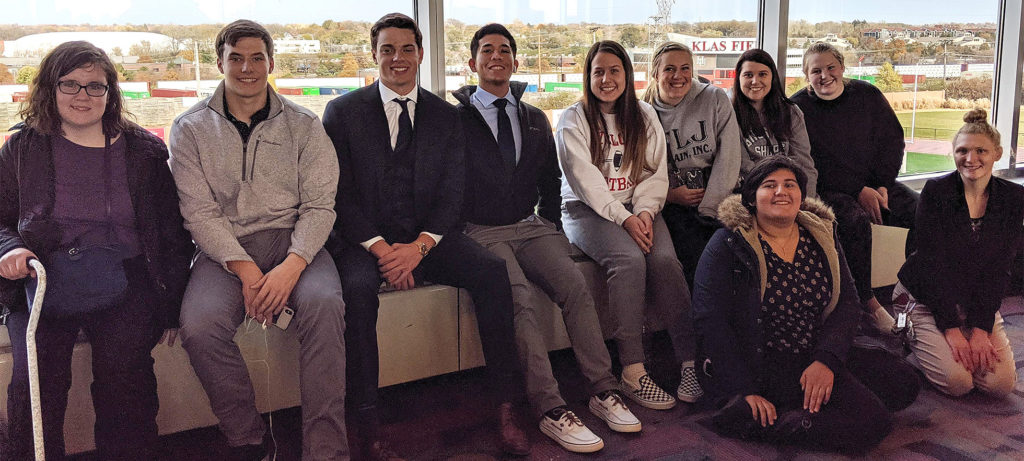 FAYETTE, Iowa (November 5, 2019) – The Upper Iowa University Mock Trial team competed in the St. Paul Trials at Hamline University in St. Paul, Minnesota this past weekend. As part of the team's first competition in 2019-20, the students worked on the State of Midlands vs Jordan Ryder mock criminal case.
The UIU team completed four trials over the course of the weekend, twice representing the prosecution and twice representing the defense. At the conclusion, UIU senior Breanna Ellis of Oelwein, Iowa, was awarded Outstanding Witness with 19 ranks. A total of 20 ranks equates to a perfect score.
In addition to Ellis, the 2019-20 UIU Mock Trial team includes Elizabeth Goddard, Clermont, Iowa; Alex Greene, Marion, Iowa; Jackson Painter, Whitby, Ontario, Canada; Rob Valladares, Moline, Illinois; Ashley Stitzer, Kansas City, Missouri; Payton Kastenschmidt, Brandon, Wisconsin; Elizabeth Creveling, Anamosa, Iowa; Abigail McKay, Eldridge, Iowa; and Gabby Palomo, Homewood, Illinois. The team is coached by UIU assistant professor of criminal justice Tiffany Kragnes and associate professor of business Chris Kragnes. The UIU Mock Trial team next competes at St. Olaf College November 16-17.