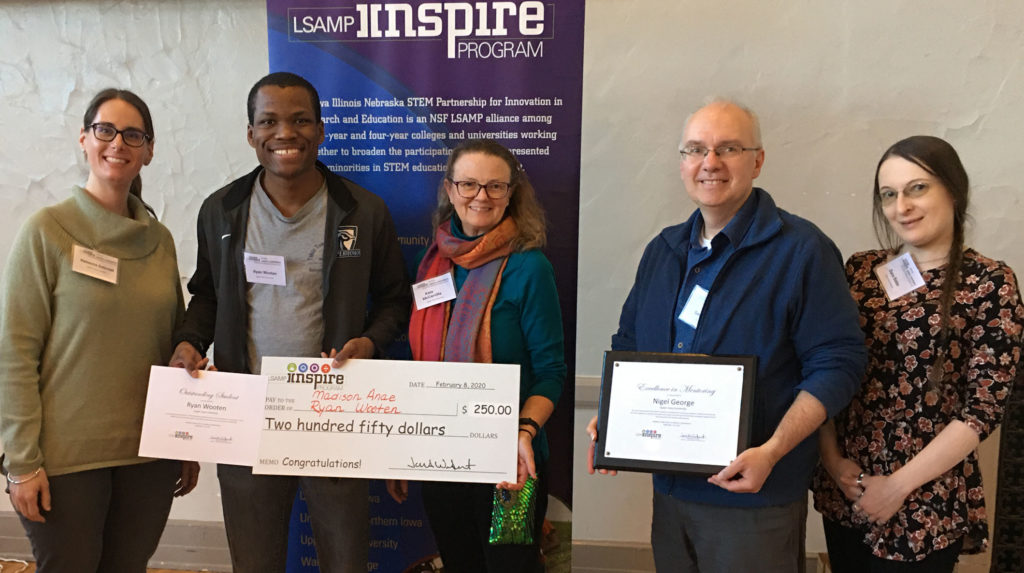 FAYETTE, Iowa (February 18, 2020) – An Upper Iowa University (UIU) junior and a faculty member were recently recognized at the annual Iowa Illinois Nebraska STEM Partnership for Innovation and Research and Education (IINSPIRE) Louis Stokes Alliance for Minority Participation (LSAMP) Conference in Cedar Falls.
Ryan Wooten, a biology major from Willowbrook, Illinois, placed first for his Brook Trout Sample Survey poster that described the results of a summer 2019 study led by Iowa State University graduate student Brett Kelly. Working as a field technician under Kelly's guidance, Wooten assisted in looking for potential brook trout restoration streams in northeast Iowa.
The research team sampled cold water streams and took habitat measurements in Allamakee, Clayton and Winneshiek counties. This included gauging stream flow, canopy cover, underwater vegetation, stream sediment, stream bank angles, stream depth, stream width, macrohabitat, amounts of woody debris and other specific measurements.
Utilizing electrofishing methods, Wooten and Kelly measured and weighed captured fish. When brook trout were sampled, part of the caudal fin was clipped and later sent to a lab for DNA testing to determine their strain. Nongame fish were only measured in length. The project was benefitted by the help and cooperation of area landowners and Iowa Department of Natural Resources officials at the Chuck Gipp Decorah Fish Hatchery, rural Decorah.
In addition to Wooten's honor, UIU professor of physics and mathematics Dr. Nigel George was presented with the Excellence in Mentoring Award at the annual conference.
In nominating her colleague, UIU professor of geosciences Dr. Kata McCarville noted George's longtime support of LSAMP and all STEM (science, technology, engineering, mathematic) fields.
"Quantitative skills are critical for student success and Nigel has developed curriculum and educational instruction that support student achievement in math and physics," McCarville said. "He helps students develop the ability to apply their knowledge to coursework, research, internships, graduate school and ultimately their careers. Nigel is an excellent role model and mentor for students as they grow and develop into effective learners, curious investigators and quantitatively adept professionals."
Wooten, George and McCarville were joined by UIU associate professor of biology Dr. Rebecca Schmidt and UIU assistant professor of mathematics Dr. Dana Bates in attending the 2020 LSAMP Conference.
IINSPIRE is a LSAMP program funded by the National Science Foundation (NSF). The alliance brings together 16 two-year and four-year colleges and universities that are working to broaden the participation of underrepresented minorities in science, technology, engineering and mathematics (STEM) education in the Midwest. The participating institutions collaborate to support and increase the success of students and provide students in the alliance with academic, research, training and mentoring opportunities, including scholarships and research stipends.