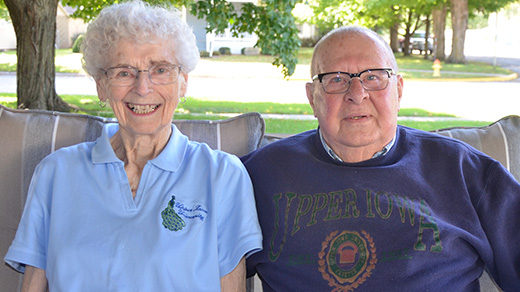 FAYETTE, Iowa (September 27, 2019) – A pair of Peacock alumni, who combined to teach over 60 years following their college graduation, have been named the Upper Iowa University "Tie Dye and Tailfeathers" Homecoming Parade grand marshals. Al '56 and Jan '64 (Mork) Seabrooke of Elgin, Iowa, will lead the annual Homecoming parade in downtown Fayette at noon on Saturday, October 5.
Initially planning to attend Iowa State Teachers College (now the University of Northern Iowa), Al Seabrooke played baseball for legendary UIU coach John "Doc" Dorman. After two years of college, he served in the U.S. Air Force, before resuming his college education at Fayette Campus. Double majoring in business education and social studies at UIU, Al first taught business education at Victor, Iowa. One year later, he would accept a similar position at Valley High School in rural Elgin. A Cedar Rapids native, Al's teaching career would span 35 years before his retirement at Valley in May 1991. Al also enjoyed a 30-year coaching career, serving as head baseball and boys' basketball coach at both Victor and Valley, and assistant football and girls' basketball coach at various times at Valley.
Jan's mother, Georgia (Meyer) Mork, received a teaching certificate from UIU in 1928. With strong encouragement from her father, Kenneth, Jan followed in her mother's footsteps. She served on the UIU Student Council and was a Future Teachers of America member, before earning degrees in K-12 education and English at UIU. An Elgin native, Jan began her 28-year 8th-grade English teaching career at Strawberry Point. Similar to her husband, she would join the Valley staff one year later.
"I don't believe we have missed a UIU Homecoming over the past 20-25 years, so we are extremely honored and are finding this to be a very humbling experience," Al said. "I really loved Upper Iowa from start to finish. The education I received not only prepared me for my teaching career but also for the master's degree I later earned at the University of Iowa."
"It was an emotional moment when we were invited to be this year's Homecoming grand marshals," Jan agreed. "My UIU education fully prepared me to be a teacher. All of the professors were professional at what they did and taught each of us students all that we ever needed to know to be successful."
Al and Jan met at Fayette Campus and have been married for nearly 63 years. The couple have two adult children, eight grandchildren, 10 great-grandchildren and one step great-grandchild. Son Tim and his two sons, Alan and Andy, also played baseball and graduated from UIU. Daughter Jill attended UIU for one year before going into the ministry. The family of Peacock graduates also includes Jan's sister, Nona, and her husband, Wayne Sawyer.
Upper Iowa University will celebrate its "Tie Dye and Tailfeathers" Homecoming Thursday-Sunday, October 3-6. The full event schedule and various RSVP and other registration forms can be found at uiu.edu/homecoming.