Celebrating Hispanic Heritage at Upper Iowa University
Hispanic culture continues to have a profound effect on food, music, science, sports, politics, fashion, the arts and much more in the United States. Hispanic Heritage Month is a time to honor and celebrate the historic background, culture, heritage, and many influences of the Hispanic community in the United States. Join us over the next month as we celebrate and commemorate the contributions of Hispanics to culture both locally and globally.
Hispanic Heritage History
In September 1968, Congress authorized National Hispanic Heritage Week, observed during the week that included Sept. 15 and Sept. 16. Sept. 15 was chosen as the starting point for the celebration because it is independence anniversary of five Latin American countries: Costa Rica, El Salvador, Guatemala, Honduras and Nicaragua. Mexico and Chile celebrate their independence soon after on Sept. 16 and 18, respectively. The observance was expanded in 1989 by Congress to a month-long celebration (Sept. 15 – Oct. 15). The United States celebrates the culture and traditions of those who trace their roots to Spain, Mexico and the Spanish-speaking nations of Central America, South America and the Caribbean.
Did you know?
There is a share of the English language that is derived from Spanish. Like most languages, English has expanded over the years through assimilation of words from other tongues. See here for a list of Spanish loanwords that have become assimilated into the English vocabulary. While this is not a complete list, this will give you an idea of how Spanish and English have been trading vocabulary (and culture) for centuries: https://www.babbel.com/en/magazine/english-words-actually-spanish
Upper Iowa University is commemorating Hispanic Heritage Month with a series of events for students, faculty, staff and alumni. All are welcome to celebrate!
Each day throughout Hispanic Heritage month, visit this page to learn the Spanish word of the day. These are some of the basic Spanish words and phrases that you can learn to get started.
Here's a look at some of the events taking place virtually and in-person. In addition, please visit the Student Center to explore the many Latin* individuals who have made extraordinary contributions to the United States and the global community – posters are along the wall of the first floor. Please note that throughout the descriptions on this page you will notice the term "Latin*". The asterisk serves as a placeholder for new and emerging terms that consider the fluidity of social identities.
Scheduled Events (All times CST)
September 15th - 3:00 PM - International Coffee Hour
Come enjoy some tasty treats! Bring your UIU ID
Morir Soñando – The name literally translates to "to die dreaming." This is a traditional drink from the Dominican Republic that is made with only 3 ingredients (milk, orange juice & sugar) and it's best enjoyed during hot summer days. Have you ever had an orange dreamsicle? That is what this tasty drink is like!
Flan – Flan is a popular Mexican and Puerto Rican dessert (also known as an egg custard to many) and is made with a milk and egg base. This delicious light alternative to a cheesecake is the perfect combination of light creamy custard and rich sweet caramel.
September 20th & October 5th - 10am-3pm - Barber Gil Gives Free Haircuts
Leadership Center, 2nd floor of the Student Center 
The UIU Fayette campus is located in a small town in rural NE Iowa. Last year, during several Student Diversity Union (SDU) meetings many of or students shared that they travel an hour or more just to get to a barber who can do their hair. This year, on September 20th and October 5th we have a barber coming to the Leadership Center (2nd floor of the Student Center). Cuts for students are FREE!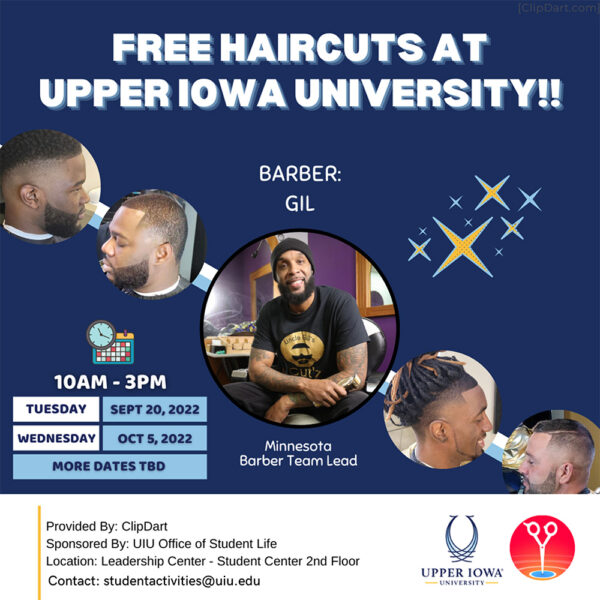 September 21st - 7:00 PM - Student Diversity Union (SDU) Mixer
The Student Diversity Union (SDU) is looking for members! The SDU was organized last year. They've had fruitful meetings sharing life experience shedding light on inequity, discussing entrepreneurship, advocacy and activism, and slam poetry, to name a few. All are welcome to join this month's SDU meeting and learn more about the organization. We will meet in the Student Center Commons.
The Mission of the SDU is to provide the best quality of life for all of our students on campus regardless of race. The SDU works towards this through providing a safe space to share life experiences, hosting events celebrating different cultural backgrounds, raising awareness, community service, and allowing for a better understanding of cultures other than oneself. The SDU seeks to enrich Northeast Iowa with diverse backgrounds and inspire growth in awareness of the realities people of color face in America today.
During the meeting we will enjoy some tasty treats celebrating Hispanic Heritage Month!
September 28th - 6:00 PM CST- Alumni Speaker Series with Jake Barron '15 
The Making of MBA Link
Born and raised in San Francisco, CA, Jake came to Fayette as a baseball player and Communications undergrad. He left as UIU's very first MBA Link graduate, earning his MBA during his Senior year. He's now the Director of Marketing for Washington DC – based Koons Automotive, one of the country's largest automotive groups. As a nominee for Automotive News' 40 under 40 in 2022, Jake enjoys the challenges of evolving the way that consumers buy and service cars. Tune in while he discusses his experience moving from California to small town Fayette, life as a college athlete, completing both an MBA and undergraduate degree simultaneously, and his career post-UIU.
You can join Jake's talk live as he shares his experiences virtually through UIU's Facebook page and you will have an opportunity to ask questions through the comments section.  The speaker series features career-related topics inspired by our alum's career paths.  Sessions are recorded and made available on the Alumni Speaker Series webpage where they can be viewed later at www.uiu.edu/alumnispeakerseries.
Resources
The Queen Sofia Spanish Institute is a nonprofit established to stimulate interest in the United States about the art, culture, customs, language, literature, and history of the Spanish-speaking world.
The National Association for Latino Community Asset Builders (NALCAB) is the hub of a national network of more than 120 mission-driven organizations that are anchor institutions in geographically and ethnically diverse Latino communities in 40 states, Washington, DC and Puerto Rico. Members of the NALCAB Network invest in their communities by building affordable housing, addressing gentrification, supporting small business growth, and providing financial counseling on issues such as credit building and homeownership. A majority of the people served by the NALCAB Network are low- to moderate-income individuals who are immigrants, or the children of immigrants.
United We Dream: For undocumented immigrants living in the U.S., facing discrimination can lead to living in fear. United We Dream works to transform that fear into finding a voice. They empower immigrant youth to develop their leadership, their organizing skills, and to develop their own campaigns at the local, state, and federal levels to fight for justice and dignity for immigrants and all people.
The Mexican American Legal Defense and Education Fund:  a national nonprofit organization with the principal objective of protecting and promoting the civil rights of U.S. Latinos through litigation, advocacy, educational outreach and the awarding of law scholarships.
The Committee for Hispanic Families and Children aims to improve the quality of life for Hispanic children and families with programs that meet the needs of low-income Hispanic families and children in such critical areas as youth development, child care, HIV/AIDS prevention and education, immigrant services, public policy and advocacy.
National Hispanic Medical Association (NHMA): The mission of the National Hispanic Medical Association is to improve the health of Hispanics and other underserved populations.
The Latino Equality Alliance (LEA): Their mission is to promote liberty, equality, and justice for the Latina/o lesbian, gay, bisexual, and transgender community. As a non-profit organization with a strong focus on family acceptance, LGBT equality, and immigration reform; LEA engages Latina/o LGBT community leaders and organizations in direct action organizing to address issues of bullying, homophobia, xenophobia, family separation, violence against youth, homelessness, high health risk behaviors and HIV/AIDS.
The Latino Restaurant Association: Promotes, supports and educates restaurateurs and small business owners to ensure the equitable economic growth of the Latino restaurant sector.
Therapy for LatinX: A database of therapists who either identify as LatinX or have worked closely with LatinX communities and understands their needs.
NAMI's Compartiendo Esperanza: This bilingual 90-minute presentation aims to increase mental health awareness in Latino communities by addressing key topics such as signs and symptoms of mental health disorders like anxiety disorders, bipolar disorder, schizophrenia and depression.
Unidos US, formerly the National Council of La Raza: Conducts policy analysis and advocacy activities in the civil rights arena in order to promote and protect equality of opportunity in voting, justice issues, education, employment, housing, and health care for all Americans.
MANA – A National Latina Organization: A national grassroots membership organization with chapters, individual members and affiliates across the country. MANA represents the interests of Latina women, youth and families on issues that impact our communities.
Virtual tours in Spanish-speaking countries:
Molina Family Latino Center at Smithsonian  is scheduled to open in summer 2022. You can see preview of exhibits at Events | Latino Center (si.edu)
360° panoramas – Virtual tours around the world – WorldTour360.com
Take a Hispanic Virtual Field Trip Around the World! • Bilingually Yours take a trip around the world to Spanish-speaking countries courtesy of bilinguallyyours.com with one major landmark per country.
El Museo del Barrio | visit El Museo – leading Latino cultural institution in NY
Argentina
Experience Buenos Aires, Argentina in Virtual Reality. (youvisit.com)  Virtual tour thru Buenos Aires
A video stroll through MALBA, one of Argentina's Premier Museums (wander-argentina.com) Tour of MALBA  Museo de Arte Latinoamericano de Buenos Aires  
Chile 
Tour Virtual MHN National Historical Museum in Chile
¡Discover Chile now! I Chile Travel
Colombia 
Museum of Contemporary Art Bogotá, Bogota, Colombia — Google Arts & Culture
Dominican Republic 
Dominican Republic | Has it all (drvirtualcountry.com) visit this page for everything DR
El Salvador 
Dreams of Dalí – Salvador Dalí Museum (thedali.org) visit the Dali museum in El Salvador and download Dreams of Dali to one of the popular virtual platforms
Guatemala
360° Photos of Guatemala w/ drone / 360° fotos de Guatemala con drone (dondroneguatemala.com) visit Guatemala with 360 drone tours
Experience Antigua, Guatemala in Virtual Reality. (youvisit.com) 360 ° views of the architecture of Guatemala
Honduras 
Copan Ruinas Honduras // Mayan Ruins Private Tour – Bing video
Roatan Honduras (fullscreen360.com) Roatan Honduras – Take a virtual tour of Roatan and see why this Honduras island is such a popular travel destination
Mexico 
Museo de Arte Moderno (inba.gob.mx) Museum of Modern Art Mexico
Virtual Tour – Frida Kahlo Museum (museofridakahlo.org.mx) -Absolutely fantastic site for fans of Frida Kahlo. Vibrant colors, tons of photos. A must-see!
National Museum of Mexican Art, Chicago, United States — Google Arts & Culture Learn more about Mexican culture with online exhibits
Nicaragua 
Experience Nicaragua in Virtual Reality. (youvisit.com) Experience Nicaragua in virtual reality
Spain
History of the Temple – Sagrada Família – Sagrada Familia A large unfinished Roman Catholic basilica in Barcelona, designed by Antoni Gaudi
Visita Virtual – La Pedrera (Casa Milà)  Fantasitc tour for an architecture or interior design fans. La Pedrera allows seeing Gaudi's architectural wonders. Easy to use. (That one is awesome)
Collection – Museo Nacional del Prado (museodelprado.es)  Museum of Art in Madrid Finest collection of European art from 12th to 20th century.
Buscar | Museo Nacional Centro de Arte Reina Sofía (museoreinasofia.es) Queen Sofia National Museum of 20th-century art.
Tour Virtual de la Catedral – Catedral de Sevilla (lacatedraldesevilla.org)  Absolutely stunning tour of Seville Cathedral. Next best thing unless possible to visit in person.
Highlights from the Collection | Museu Picasso | The website of Barcelona city (bcn.cat)
This site offers virtual tours of some of the works of Picasso.
Puerto Rico
Outdoors | Discover Puerto Rico
Lear about a few Puerto Rican artists and their works at the Smithsonian American Art Museum: Puerto Rico | U.S. States | Smithsonian American Art Museum (si.edu)
Learn more about Puerto Rican history, heritage and landmarks: Puerto Rico – History and Heritage | Travel | Smithsonian Magazine