We encourage students to engage in the career exploration process throughout their entire time at Upper Iowa University.  We have resources and assessments as well as a network of alumni and employers with real world experiences that can help guide you through the process.
Career Development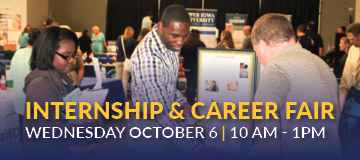 Phone: 563.425.5229
Fax: 563.425.5355
Email: [email protected]
Location: 2nd Flr. Student Center (225), Fayette Campus
Mailing Address
Office of Career Development
Upper Iowa University
P.O. Box 1857
605 Washington St.
Fayette, IA 52142
Office Hours
Monday – Friday: 8:00 AM to 5:00 PM (CST)
To schedule an appointment, visit the Career Services section on your Handshake account.


Anne Puffett 
Director of Career Development
563.425.5229
[email protected]


Nikki Kuhn
Career Development Specialist
563.425.5208
[email protected]
Follow Us!
Career Development Links