Request a Free Transcript Credit Evaluation
We understand that transferring to another school can be confusing.  We want to take the guess work out of knowing what credits you will have when starting your program at UIU.  Your time and resources matter to us, so we want you to help you maximize your previous coursework and experience.  By requesting a free evaluation, we are able to guide you through this process.  We only need an unofficial transcript to start the evaluation.  Once the form is completed, an admissions counselor will reach out with more information.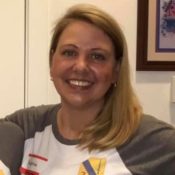 Kessie Enstrom, '19
Sociology
Online
As a military spouse, for the last almost 18 years, I have moved around a lot with my husband. In each move it was always a challenge to transfer my previous certifications and college credits from one state to the next state. I chose UIU for my education because it was the first college that was willing to transfer the majority of my college credits. For once, I was not being told I had to start all over again. Which has brought me to today, which is the day that I call my 'forever degree,' since it has been taking forever, is finally done!
Instant Scholarship
Transfer Students: Finish what you started with a scholarship to UIU Fayette Campus.
Transcript Evaluation Request Form