Asian American and Pacific Islander Heritage Celebration
Celebrating Asian Heritage at Upper Iowa University
In the United States May is designated as Asian American Pacific Islander (AAPI) Month. However, to accommodate for the academic year, Upper Iowa will begin celebrating the culture, traditions and long history of contributions and achievements of Asian Americans and Pacific Islanders in the United States beginning mid-April into May.
Scheduled Events (All times CST)
April 15th - 3:00 PM - Intl. Coffee Hour featuring treats from New Zealand + Malaysia
Join us at the Fayette Campus Student Center!
ANZAC Biscuits: Back by popular demand, the recipe for these New Zealander treats come from Upper Iowa senior and Art major, Emma Fellows. Emma actually got this delicious recipe from her grandmother. Graduating this May, Emma looks forward to a career in architecture.
Apam Balik – Asian Peanut Pancake Turnover: This Malaysian recipe was submitted by Upper Iowa senior Barry Lok. According to Barry, it is impossible to not go for seconds of this tasty treat. Barry is graduating in May double majoring in Psychology and Math.
April 16th - 7:00 PM - Teleparty - Howl's Moving Castle (Japanese: ハウルの動く城)
This Teleparty is sponsored by the International Student association. To join the teleparty and watch the movie from the comfort of your own space, just sign up using the link below.
In this film directed by Hayao Miyazaki, "When an unconfident young woman is cursed with an old body by a spiteful witch, her only chance of breaking the spell lies with a self-indulgent yet insecure young wizard and his companions in his legged, walking castle." Howl's Moving Castle (2004) – IMDb
April 22nd - 12:10 PM - Lunch & Learn Discussion Zoom Meeting
Discussion on discrimination faced by people of Asian descent and the rise of harmful rhetoric.
All faculty and staff at UIU are welcome. Feel free to grab your lunch and join us for these Lunch & Learn Discussions! We will focus on issues related to AAPI.
April 24th - 12:00 PM - Holi Festival: "Festival of Colors"
Come outside and play with colorful powders that symbolize energy, life, and joy. Participants will receive bags of colorful powders to color themselves and their friends. Suggested to wear light color (white is best) clothing for better powder visibility.
Holi is a Hindu spring festival, which originated in the subcontinent of India and is celebrated across the world. Often called the "Festival of Colors," there are several legends about the origin of why Holi is celebrated. The timing of Holi, is synchronized with the moon, which means that the actual dates vary from year to year. About Hindus and Hinduism – Hindu American Foundation
This year Holi was March 28-29 but we are celebrating it on April 24th in hopes of beautiful weather.
April 28th - 12:15 PM - Panel Discussion: Asian American Experiences: Then & Now
Moderated by Upper Iowa Professors Meghan Mettler and Nickie Michaud Wilde, this panel aims to provide a historical context to the recent upsurge of anti-Asian violence and to increase our collective awareness of and knowledge about implicit bias, microagressions and issues that afflict Asian Americans.

Join Zoom Meeting
https://uiu.zoom.us/j/94146622670
Meeting ID: 941 4662 2670
One tap mobile
+13126266799,,94146622670# US (Chicago)
+16465588656,,94146622670# US (New York)
Dial by your location
+1 312 626 6799 US (Chicago)
+1 646 558 8656 US (New York)
+1 301 715 8592 US (Washington DC)
+1 346 248 7799 US (Houston)
+1 669 900 6833 US (San Jose)
+1 253 215 8782 US (Tacoma)
Meeting ID: 941 4662 2670
Find your local number: https://uiu.zoom.us/u/aWiDhdN
Book club discussion facilitated by Dr. Summer Zwanziger Elsinger, followed by discussion with the author and UIU alumna Billie Tuvshinbayar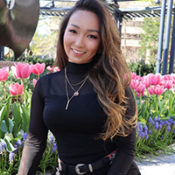 In Almost American, author and Upper Iowa alumna, Billie Tuvshinbayar, talks openly about what it means to be an immigrant in America. After moving from Mongolia to the U.S. at just 19 years old, Billie noticed that many Americans held negative beliefs about immigrants. Learn about the struggles that immigrants face as Billie shares her firsthand experiences and stories of influential creators and entrepreneurs to illustrate the tremendous contributions that immigrants have made to the American culture and economy.
Billie Tuvshinbayar emigrated from Mongolia to the U.S. when she was 19 years old. At Upper Iowa she majored in Finance and Marketing, graduating in 2013. She went on to Georgetown University where she earned her Master's in Real Estate Finance. Today Billie is an analyst for a Fortune 500 company.
Obtaining copies of the book (everyone invited!) 
Fayette campus has copies available at the UIU Library
Online and center students may go to their local libraries, or request a book through Interlibrary Loan:  Interlibrary Loan Request – Upper Iowa University (uiu.edu)
If you need help, please contact the UIU Henderson-Wilder Library – Upper Iowa University (uiu.edu) through e-mail

[email protected]

or phone (563) 425-5261.
Purchase a copy from your local bookstore or online. Amazon.com: Almost American: A Mongolian Girl's American Story eBook: Tuvshinbayar, Billie: Kindle Store
Topic: Book Club Discussion & Chat with author Billie Tuvshinbayar
Time: Apr 29, 2021 06:00 PM Central Time (US and Canada)
Join Zoom Meeting
https://uiu.zoom.us/j/94654852824
Meeting ID: 946 5485 2824
One tap mobile
+13017158592,,94654852824# US (Washington DC)
+13126266799,,94654852824# US (Chicago)
Dial by your location
+1 301 715 8592 US (Washington DC)
+1 312 626 6799 US (Chicago)
+1 646 558 8656 US (New York)
+1 253 215 8782 US (Tacoma)
+1 346 248 7799 US (Houston)
+1 669 900 6833 US (San Jose)
Meeting ID: 946 5485 2824
Find your local number: https://uiu.zoom.us/u/aJsirqvNz
SPOTLIGHT - Japanese Korean Club
JKC (Japanese & Korean Club) was established in 2018 by a group of students who share their love and passion for Japanese and Korean culture. The Japanese and Korean club is devoted to sharing and spreading the culture of Japan and Korea throughout campus.
Our main goal is to foster a community of students interested in both cultures. We have events based on specific aspects of Japanese and Korean cultures such as holidays (Japanese and Korean New Year), traditions (origami, traditional Korean and Japanese games, etc.), and food (sushi, kimchi pancakes, japchae, and many more!).
SPOTLIGHT - International Student Association (ISA)
Students from different nations and cultural background come together to create integration among international students of all races and the university community, as well as to assist the students in the transition into American culture.
By organizing this association, we hope to fill gaps between all international students, no matter the country of origin. As an organization we focus on the educational, cultural, and social aspects of university life in order to serve as a connection between International and American Students.
ISA strives to promote and improve international students' ability to adjust to American life and also to establish an advanced communication channel between the countries.
Asian American and Pacific Islander Support Resources
Asian Americans Advancing Justice (tool for reporting hate incidents)
Stop AAPI Hate (tool for reporting hate incidents)
South Asian Americans Leading Together (SAALT), which focuses on public policy analysis, advocacy and community building.
The National Federation for Filipino American Associations (NaFFAA), which develops young leaders, urges political participation and supports small businesses.
The National Queer Asian Pacific Islander Alliance (NQAPIA), which promotes visibility and provides education and tools to tackle homophobia and racism.
The Sikh American Legal Defense & Education Fund (SALDEF), a media and educational organization that promotes civic and political participation.
Empowered Pacific Islander Communities (EPIC), which seeks to empower Native Hawaiian and Pacific Islander (NHPI) communities through advocacy and research.
The National Asian American Pacific Islander Mental Health Association, which helps provide affordable care, translated resources and cultural competency for professionals.
Send Chinatown Love, which supports restaurants, many of which are immigrant-run and cash-only and so were rejected for government aid.
Detox Local – An extensive list of mental health and substance use resources specifically for the AAPI community.