Sexual Assault Awareness Month
Raising Awareness on Campus
Scheduled Events
All Month Event: Raising Awareness for Sexual Assault
April is Sexual Assault Awareness Month. In honor and support of Sexual Assault Survivors, UIU will be participating in an online virtual challenge created by the National Sexual Violence Resource Center (NSVRC).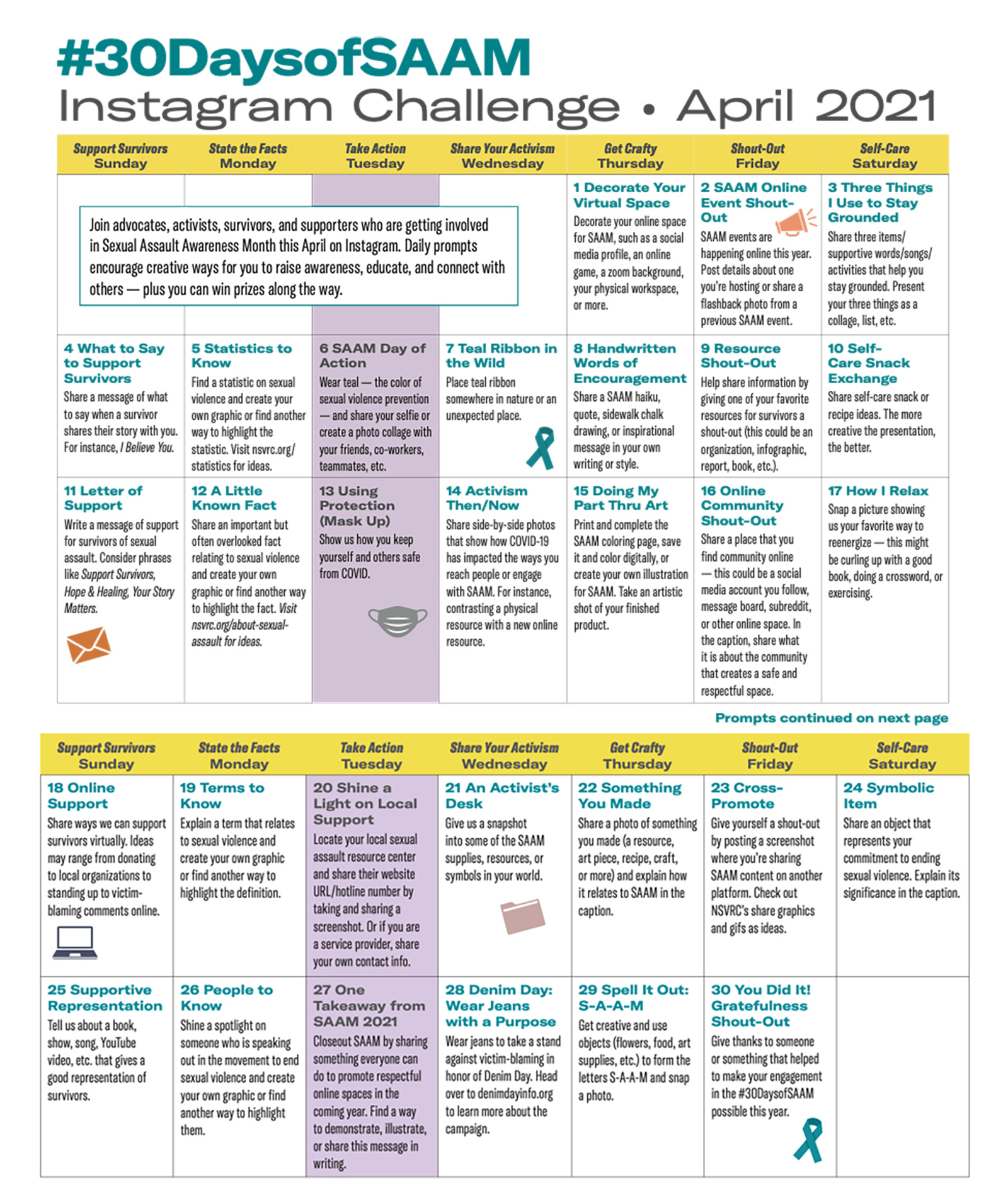 All Month Event – Wellness Challenge
Earn wellness points in the month of April is to participate in at least 5 challenges that are posted below in the calendar of events!  Please remember to submit your evidence through the myUIU wellness activity tracking page.  You can earn 1 point per challenge you participate in up to 5 points for the month (in addition to the points listed below for Wear Teal Day and Denim Day)
Everyone is invited to participate in Wear Teal day on April 6th and post your photo to  UIU.EDU/SAAM with the following hashtags: #UIUSAAM or submit your photo online at the wellness activity tracking page through myUIU. This will be worth 2 wellness points.  Additionally, we invite you to also observe Denim Day on Wednesday, April 28th. The history and significance of these two dates are explained below.  Help be part of the movement to Stop Sexual Violence.  Please post a photo of your denim day attire below or by submitting your photo to the wellness activity tracking page through myUIU.  Participating in denim day can also earn you 2 wellness points.
This is an interactive list of state resources for survivors of sexual assault and domestic violence, as well as a list of national and local Iowa resources for survivors. One may also donate or volunteer with any of these organizations.
State Coalitions Against Rape:

Domestic Violence Resources: