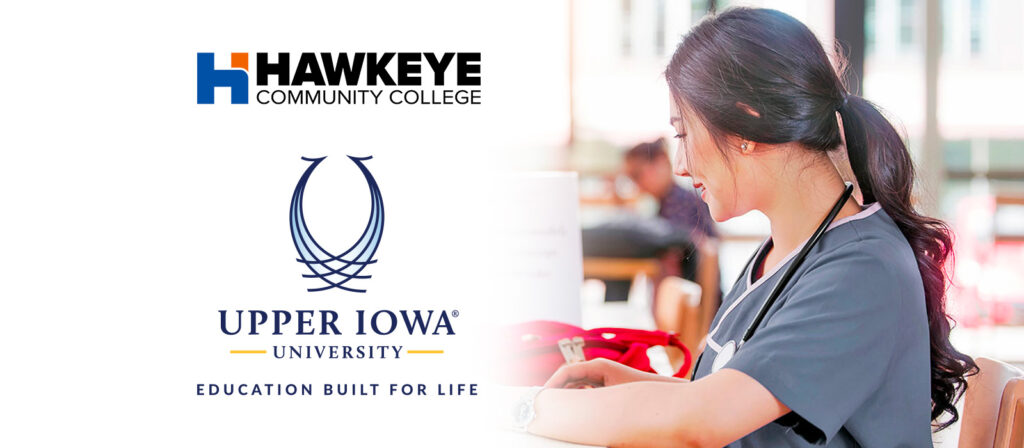 Upper Iowa University (UIU) and Hawkeye Community College (Hawkeye) are partnering to create a unique pathway with an Associate-Baccalaureate Accelerated Nursing Program. This dual enrollment program allows nursing students the opportunity to complete their associate degree in nursing through Hawkeye and get a head start on their Bachelor of Science in Nursing (BSN) through UIU during the summer semesters. Students take nursing coursework in person at Hawkeye and online through UIU, giving them a time-efficient and cost-effective pathway to the BSN.
"The dual enrollment accelerated program at Upper Iowa University creates an affordable, accelerated pathway for Hawkeye Community College students to earn a bachelor's degree in nursing," said Dr. Stephanie Tippin, Director/Department Chair of Nursing at UIU. "A more highly educated nursing workforce benefits the entire community and I commend Hawkeye for their visionary approach to nursing education."
Students will be able to start their BSN before graduating from Hawkeye and can complete their BSN degree from UIU in approximately eight months or less post-graduation. This cost-conscious pathway is available to all Hawkeye nursing students, with all students being eligible for the UIU Transfer Connection Scholarship earning up to $1,500 off tuition each year.
The accelerated program gives students an opportunity to develop hands-on nursing skills while concurrently gaining core competencies of a highly sought-after BSN-prepared nurse. With the flexibility of 100% online courses and small class sizes, students are able to jumpstart their nursing careers.