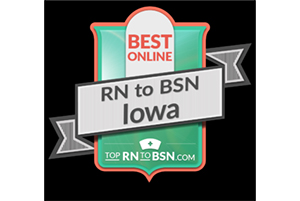 FAYETTE, Iowa (August 2, 2019) – Upper Iowa University (UIU) has been ranked among the top schools in Iowa for online RN to BSN nursing programming. UIU is ranked 5th in the state by TopRNtoBSN, a leading online information source for current and prospective nursing students.
TopRNtoBSN ranked the best online RN to BSN programs in Iowa for nurses who want to increase their salaries, take on higher-level positions and become leaders in nursing. To rank the online RN to BSN programs with the most potential for career development, TopRNtoBSN editors searched through all Iowa nursing colleges offering fully online or hybrid BSN programs. The qualifying programs were ranked according to tuition, student satisfaction and job placement rate. Data came from College Scorecard, Niche and IPEDS.
The TopRNtoBSN editors reported that UIU stood out from other college programs due to its flexible scheduling. Nurses have options to take the accredited courses full or part time. Students can also choose between a fully online program or a hybrid program based on work schedules and career plans. The editors noted that the accelerated education allows nurses to complete the degree in a fraction of the time and focus on advancing his or her career.
UIU accepts transfer credit from accredited community colleges, four-year colleges, and universities. Students may transfer up to 78 lower-division credits (community college or freshman/sophomore level) and up to 12 additional transfer credits from a four-year university (junior/senior level courses).
For additional information about the Upper Iowa University RN-BSN program, visit this page.