Earn Your College Degree at
our Fayette Campus
Our residential campus offers a wide array of resources for students to excel in the classroom and to opportunities to be involved.
Fayette Campus Tuition & Fees: A low $19,475/year for '24-25!
Learn more about Upper Iowa's low tuition rate, and our extraordinary financial assistance program, Peacock Promise.
Academic Programs at UIU-Fayette Campus
The UIU-Fayette Campus offers a wide variety of undergraduate and graduate degree programs for first year students, transfer students, international students and graduate students. In addition to our in person classes on campus, blending your degree plan with online and self-paced courses widens the possibilities even further.
Select one of the UIU-Fayette Campus programs below to explore that area of study.
Associate Degrees
Bachelor's Degrees
Master's Degrees
Academic Support
Get the support you need for successful studies through tutoring or accommodations for a disability.
Visit Campus
We would love to have you visit us at our Fayette campus or visit us virtually!
Admissions Requirements
When you're ready to apply to Upper Iowa University, we'll help you navigate the admissions and financial aid process.
Tuition and Costs
100% of Fully admitted students are awarded a scholarship on the Fayette campus. Check out our tuition and cost options.
Welcome New Students!
If you have already been accepted to UIU, explore what to do before you come to campus.
Peacock Athletics
Whether you are an athlete or looking to support UIU athletics, UIU has a wide variety of athletic teams on campus.
Shorter Sessions with Focused Schedule
UIU's unique Two-at-a-Time course schedule helps you focus on your studies. As a full-time student, you only need to take two classes during each 8- or 6-week session, which helps you concentrate and excel. UIU gives you access to courses year-round, so you can complete your degree on your schedule.
View available Courses
Full Year Schedules
Final Exams
Final exams are held on the last Wednesday and Thursday of each session. For courses
that meet outside of the below times, please refer to your course syllabus.
Time class meets
Examination Date:
Last Wednesday of each session
Examination Date:
Last Thursday of each session
8:00 a.m.
8:00-9:50 a.m.
9:25 a.m
8:00-9:50 a.m.
10:50 a.m.
10:00-11:50 a.m.
12:50/1:05 p.m.
10:00-11:50 a.m.
2:15 p.m.
1:00-2:50 p.m.
3:40 p.m.
3:00-4:50 p.m.

Experience UIU from
Fayette, Iowa
You will have the opportunity to create connections locally and within the global UIU community. Check out our housing, dining, and activities options available to you on campus.
Bethany Lovhaug, '19
Teacher Education - Prekindergarten - Grade 3
Fayette Campus
I chose UIU because of the small class sizes and 8 week course schedule. You get to know the people in your class and your professors on a name to name basis which makes you feel like you belong. I also chose UIU to continue my volleyball career in one of the most competitive conferences in Division 2.
Easily Transfer Credits
Whether it's been a single semester or several years since your last college course, UIU makes it easy to apply those credits to your degree. We accept up to 90 credits from four-year schools or 78 credits from two-year schools. Plus, your professional experience and test scores may earn you college credit.
The university also partners with several community colleges across the country to make the transfer process even smoother. UIU holds articulation agreements with schools across the country.  Check out all of our articulation agreements.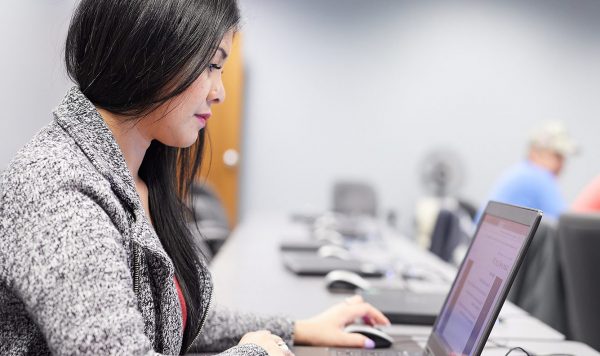 Dual Enrollment
Upper Iowa University offers online courses to eligible high school students to increase the students' opportunities to take college-level courses.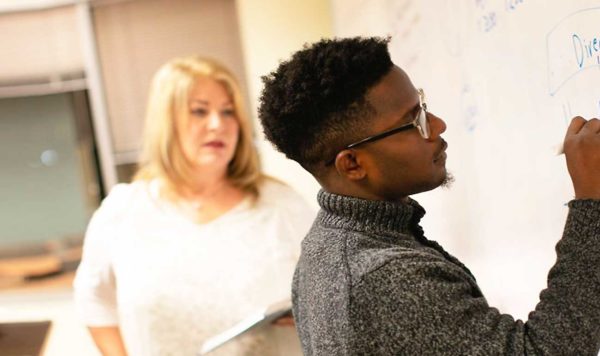 Honors Program
The UIU Csomay Honors Program provides self-motivated individuals with another avenue to challenge themselves in becoming future innovators and leaders in the global community. Students that successfully complete the Csomay Honors Program will graduate as University Honors Scholars.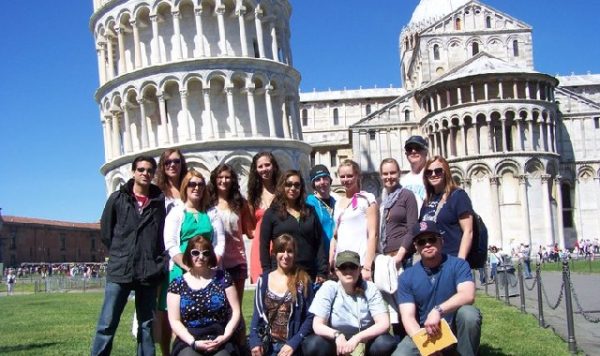 Study Abroad
In 2016, UIU was among 12 U.S. higher education institutions recognized by the Institute of International Education (IIE) Generation Study Abroad for already exceeding their goals to boost study abroad participation in year two of a five-year national initiative. UIU offers the opportunity to study through more than 200 different programs in more than 50 countries worldwide.
The Day of a Student at UIU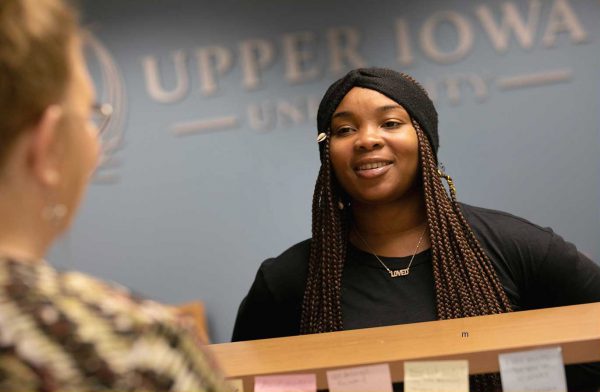 Taylor | Manchester, IA
8:30 AM: Get ready for class
9:30 AM: Breakfast at the Servery in the Student Center
10:30 AM: Corporate Finance Class
11:30 AM: Macroeconomics
12:30 PM: Lunch at the Servery in the Student Center
1:30 PM: Work Study – Office of Admissions
2:30 PM: Study Time
4:30 PM: Exercise at the Recreation Center
5:30 PM: Supper at the Servery in the Student Center
6:30 PM: Group Project
8:00 PM: Guest Hypnotist in the Student Center
10:30 PM: Hang out in the dorm
11:30 PM: Sleep
Contact UIU-Fayette
605 Washington St.
Fayette, IA 52142
Phone: 800-553-4150
Email: [email protected]
Office Hours
Monday – Thursday: 8 a.m. - 5 p.m.
Friday: 8 a.m. - 3 p.m.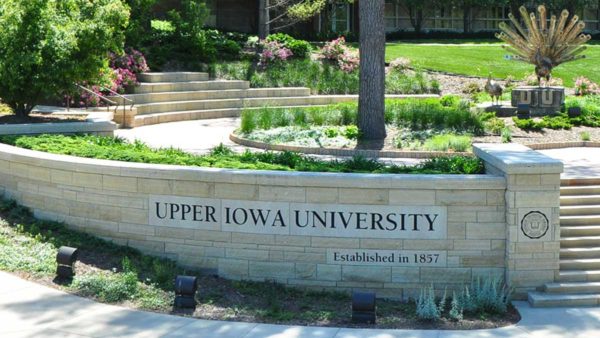 Book a Virtual Appointment Today!