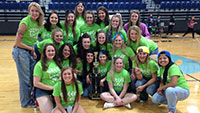 Sororities
Kappa Zeta Tau (KZT)
Kappa Pi Upsilon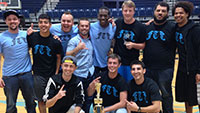 Fraternities
Alpha Nu Omega (ANQ)
Alpha Zeta Phi
Beta Delta Pi (BDP)
Beta Phi Omega (BPQ)
Meet the Greek Council President
Samantha Watsabaugh
Year: Senior
Major: English and Communication Studies
What I love about Greek Life:
I love how Greek Life opens a world of opportunities to get involved with what UIU has to offer. Not only being involved in fun events and activities, but meeting new people and gaining friendships that are going to last. When you join Greek Life, you join a family.
What is/are your main goal(s) for Greek Life at UIU?
My main goal is to get the Greeks more involved with each other, staff, faculty,  and the community around us. I want to plan events that give the Greeks an opportunity to give back to the great community we live in. Through these events we can continue to be a support system for one another and strengthen that bond we all share.