GEICO Corporate Advantage Program
Take advantage of the benefits available to GEICO associates
1,500
+
GEICO Associates in 29 states have taken a UIU course
$350
Grant amount off each course to maximize your tuition reimbursement benefits
6
Sessions start – get started today, without having to wait
GEICO associates may complete their core business cores or earn a Business Administration degree through our partnership program.  
GEICO's benefits include:
Tuition grant of $350 per

course taken at a UIU that are two credits or more. 

 

 

Associates,

spouses and children (up to age 26) are also eligible for th

is 

grant. 

 

UIU offers a delayed payment option for each course.  This allows you to start taking your courses with minimum out-of-pocket expenses, like

purchasing or renting your textbook.

Courses are offered in five 8-week sessions and one 6-week summer session each year. Each UIU course can be completed in half the time of a typical 16-week semester.  Associates who are not in compliance with GEIC

O educational requirements can quickly become compliant. 

Associates also can take up to 30 credit hours (10 classes) before being accepted to the university and declaring a major. 
THE UIU DIFFERENCE: 
Flexibility: Students can use any combination of classroom or online courses to create a schedule that fits into their busy schedule. 

Reliability: UIU is a private, nonprofit university founded in 1857. We are accredited through the Higher Learning Commission. 

Convenience: Our unique course schedule allows students to focus on one to three classes at a time while still allowing them to move through their educational requirements quickly. 

Advising: Each employee is assigned an advisor who will work with them closely from enrollment to completion of coursework. Advisors are easily accessible via phone and email as well as through face-to-face meetings several times a year at your location. 

Student Support: UIU also offers students a wide range of student support resources, including online library services, online tutoring, career services, disability services and financial aid for degree-seeking students. 

Transferability: Students can transfer up to 78 credits from an accredited two-year college and up to 90 credits from four-year institutions towards their pursuit of a bachelor's degree. Students can transfer up to 12 credits towards their master's degree.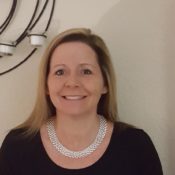 Lisa Milligan - GEICO Regional Management Trainer
The partnership between GEICO and Upper Iowa University (UIU) has been outstanding in helping associates advance their education and earn degrees. UIU has helped eliminate previous barriers by providing associates a Delayed Payment Contract with little to no upfront cost. The UIU advisors make the "college" process easy for associates to navigate and are always available for assistance. Associates can choose from a variety of course formats to find an option that works for them. Classes are eight weeks long--providing associates a opportunity to meet Education Requirements quickly for the job application process.

All associates are encouraged to invest in themselves and take advantage of GEICO's Tuition Reimbursement Program. We are in an ever-changing world and need to ensure we are prepared for the challenges that lie ahead.
Admissions Process & Frequently Asked Questions
Learn about the process of admission to UIU and help answer most of your questions about getting started
GEICO's Educational Requirements
Associates who are in management or want to job post for a Management position, need to meet GEICO's Educational Requirements.