Information Systems
:
Available Online
The UIU Advantage
Turn your love for computers into a high-paying, high-demand career! UIU's bachelor's degree in Information Systems prepares you to apply technology to the problems faced by organizations throughout today's tech-driven world. As a graduate, you'll have the knowledge and hands-on skills needed to offer a practical approach to a variety of technology problems.
Why Information Systems at UIU?
UIU's Information Systems major is integrated with the Information Technology program to maximize your learning and professional potential. Additionally, you can choose between specializations in Information Systems and Security and Integration (ISSI) and Information Systems and Technology Management (ISTM) to tailor your degree to your goals.
You'll also benefit from the real-world experience of our faculty, who are experts in the information systems field. UIU's helpful, caring staff is also available to support you from the moment you begin your program.
Explore Your Program
Information Systems Courses
See course descriptions for the classes you need for your Information Systems degree, as well as any general education requirements.
Academic Calendar
Keep up with your academic program's registration deadlines, session dates, holiday breaks and exam schedules.
Careers in Information Systems
A degree prepares you for many careers, such as business analyst, computer systems analyst, data analyst, information security analyst, information systems manager, and IT consultant.
Majoring in Information Systems
About UIU's Information Systems Degree Program
What is an Information Systems Degree?
UIU's bachelor's degree in Information Systems gives you a strong foundation in this growing discipline. This program prepares you to design and implement effective solutions that meet organizational and management needs for technology information and decision support. The discipline is ideal for students interested in interfacing IT tools to the needs of an organization.
A minor in Information Systems is also available if you're interested in the subject but plan to major in another area.
Getting Your Information Systems Degree Online
Get the same high-quality information systems education that you would get from a UIU classroom—at home or in your office. Upper Iowa University offers an information systems degree online, as well as in-person and distance learning options to meet your educational needs.
How to Apply
To apply, visit our Online Application portal to create an account and start your application. Still unsure if the Information Systems degree at Upper Iowa University is right for you? Reach out to our admissions office to ask questions or request additional information. They'll be happy to assist you.
Career Opportunities & Benefits
Careers in Information Systems
Your bachelor's degree in Information Systems from UIU prepares you for entry-level positions in this growing, lucrative field. With experience, however, you may be able to move into management roles.
Some job titles that an Information Systems degree prepares you for include:
Business Analyst
Computer Systems Analyst
Data Analyst
Information Security Analyst
Information Systems Manager
IT Consultant
Before you begin your job search, visit the UIU Office of Career Development for complimentary services to help you get started.
Information Systems Salary Information
Your salary will vary based on factors like location, job title and years of experience. However, according to the Bureau of Labor Statistics, some average salaries for information systems careers include:
Computer and Information Systems Manager – $151,150[1]
Computer Systems Analyst – $93,730[2]
Information Security Analyst – $103,590[3]
Benefits of an Information Systems Degree
Technology continues to shape our world in new and exciting ways. Because of the prominence of tech in almost every facet of life, professionals in the field are in high demand. As an information systems professional, your options aren't limited by company or geographical location. These positions are needed in many industries, both nationally and around the world.
Degree Requirements, Skills & Certifications
Information Systems Courses
The courses you take will vary based on the specialization you choose, as well as which electives you select. However, all students complete a core curriculum and are required to complete a two-part senior capstone.
Core courses focus on topics like:
Foundations of Information Systems
Human Computer Interaction
IS Strategy, Management and Acquisition
IT Infrastructure
Management Principles
Principles of Microeconomics
Systems Analysis and Design
Information Systems Skills
As an information systems professional, you'll need a number of hard skills that will vary depending on your exact role. This might mean knowing one or more programming languages or having experience with a specific piece of technology.
Soft skills, however, will also play an important role in your career success. Some soft skills that information systems professionals should have include:
Collaboration
Communication
Leadership
Problem Solving
Time Management
Best Minors for Information Systems Majors
A general business minor is built into this degree program. Some additional minors typically paired with an Information Systems degree include:
Frequently Asked Questions (FAQs)
What can I do with an Information Systems degree?
With a bachelor's degree in Information Systems, you can work in different roles for companies across the industry spectrum.
For example, some graduates go on to become information security analysts, helping to protect an organization's networks and systems from cyberattacks. Others find work as computer systems analysts, studying computer systems to develop solutions to help an organization operate more efficiently. With some experience, you can also advance to lucrative roles in management.
Is an Information Systems degree worth it?
A degree in Information Systems prepares you for well-paying, in-demand jobs. According to the Bureau of Labor Statistics, the expected job growth by 2030 for computer and information systems managers and information security analysts is 11%[1]and 33%[3], respectively. These careers are growing at a much faster rate than the overall average. And, with each averaging a yearly salary of over $100,0001[1][3], your degree puts you in a great position to find a lucrative role.
UIU Locations for Bachelor's Degree in Information Systems
: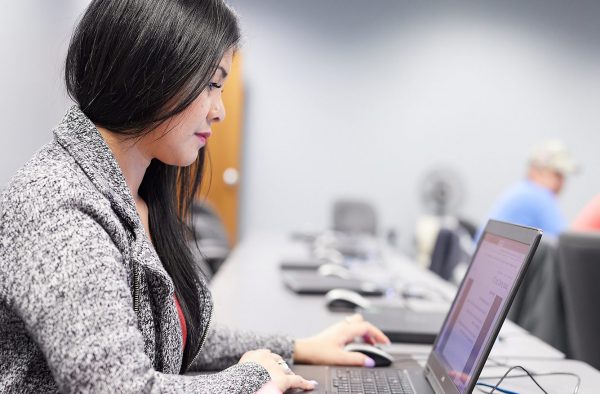 Convenient, Focused Scheduling
UIU Information Systems students have the advantage of focusing on fewer classes at once with the Two-at-a-Time schedule. Plus, convenient evening or online courses ensure your education fits your unique lifestyle.
The Information Systems bachelor's degree program is offered through UIU's School of Business and Professional Studies.
32
%
Projected growth in information security analysts jobs from 2018 to 2028
9
%
Projected growth in computer systems analysts jobs from 2018 to 2028
11
%
Projected growth in computer and information systems manager jobs from 2018 to 2028
Admissions
When you're ready to apply for your bachelor's degree in Information Systems, we're ready to help you every step of the way.
Or Try This
If Information Systems is not quite what you are looking for, check out our Software Engineering program or Information Technology program.